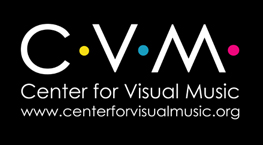 CVM Store: Visual Music DVDs, Books, Journals, Catalogs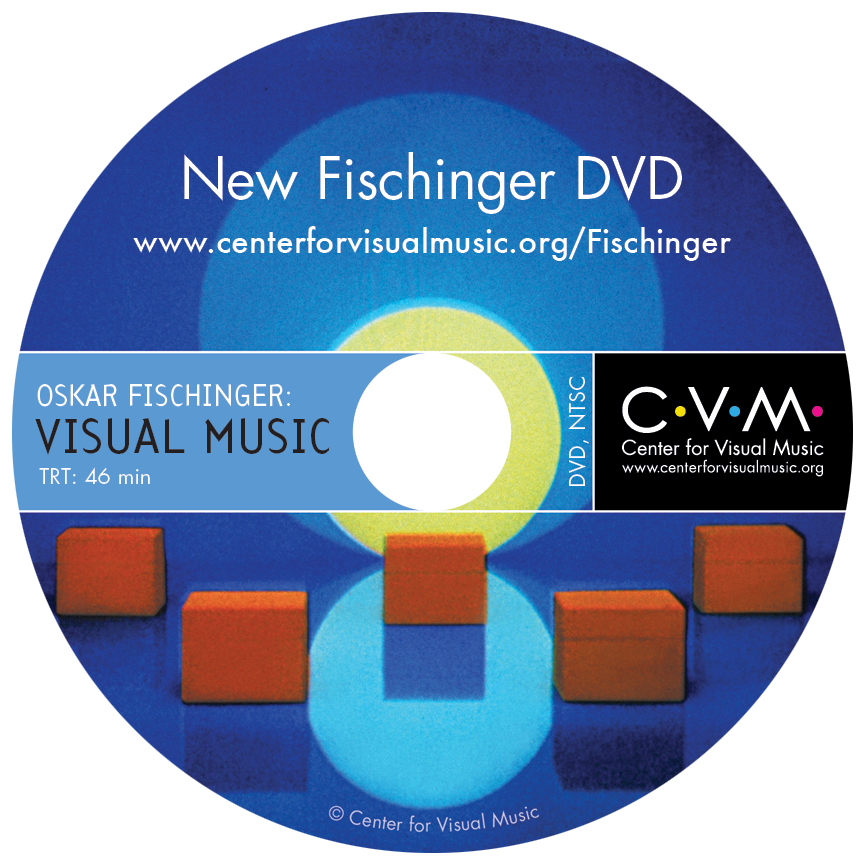 All DVDs are at our new squarespace shop:
Please visit our new store here
---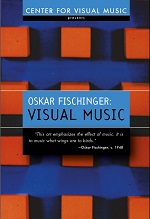 The second Oskar Fischinger DVD - December 30, 2017 release. Contains Composition in Blue, Muratti greift ein, Study no. 8, Study no. 5, Study no 2, An American March, Squares, Coloratura, Swiss Trip (Rivers and Landscapes), Pierrette I, newly restored animation tests from the 1920s, 30s, 40s, home movies, and more. New restored prints and HD transfers. NTSC, DVD. A CVM release, 2017. $30 private home use, $200 institutions.
Order here: NEW DVD
---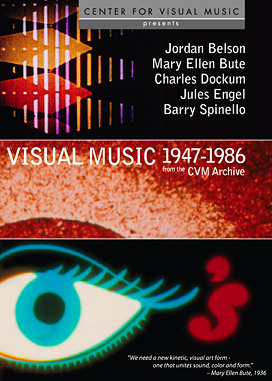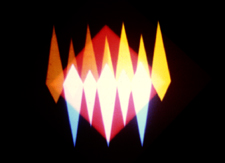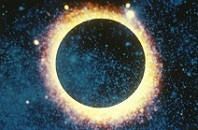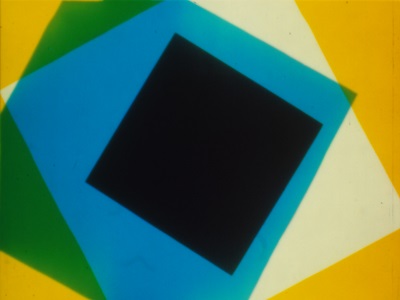 CVM DVD: Visual Music 1947-1986, from CVM archive (2017 release). 13 rare films by Jordan Belson, Mary Ellen Bute, Jules Engel, Charles Dockum and Barry Spinello. Featuring pre-computer abstraction, using a variety of techniques including early oscilloscope experiments, color organs, hand-drawn sound, animation drawn directly on film, painted scrolls, and optical printing. Films from the archive of Center for Visual Music. "We need a new kinetic, visual art form - one that unites sound, color and form." - Mary Ellen Bute, 1936. NTSC, region-free, 78 minutes. ISBN 978-0-9764320-0-5. Images above from Charles Dockum, Jordan Belson and Mary Ellen Bute films. Title list, film notes and more here
Please purchase here
Private home use $30
Institutions $200 Classroon and library use only.Does not include rights for any public exhibition or screenings
---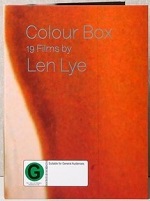 Colour Box: 19 Films from Len Lye (2016 release). 19 films, made between 1929 to 1979. The Govett-Brewster Art Gallery, Len Lye Foundation and Ngā Taonga Sound & Vision launch the first comprehensive DVD collection of experimental films by Len Lye. Features Tusalava (1929), A Colour Box (1935), Rainbow Dance (1936), N or NW (1937), Trade Tattoo (1937), Free Radicals (1958), Colour Cry (1952), Particles in Space (1979), and more, plus early stop-motion films Experimental Animation (1933) and Birth of a Robot (1936). Several lesser-known films appear in restored form, including Life's Musical Minute (1953) and the majestic All Souls Carnival (1957). $30, PAL, very limited quantity. Includes booklet on Lye and the films. Does not include rights for public exhibition out of stock
---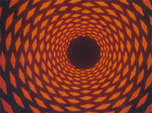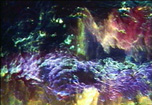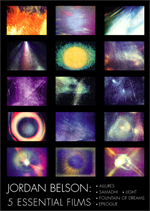 Jordan Belson: 5 Essential Films DVD (2007). Contains Allures, Samadhi, Light, Fountain of Dreams (never before released) and Epilogue. 1961 - 2005. "Jordan Belson is one of the greatest artists of visual music. Belson creates lush vibrant experiences of exquisite color and dynamic abstract phenomena evoking sacred celestial experiences." (Film historian William Moritz). Curated by Belson, Produced/Released by CVM, 2007. NTSC, Region-free. Approx 45 mins. More information about the films on the DVD is here
"These five films by Jordan Belson, representing his early, middle, and later periods, are essential for three reasons: the early classics were breakthrough masterpieces, the previously unreleased "Fountain of Dreams" is a dazzling revelation from the middle period, and the shimmering "Epilogue" from 2005 makes it clear that the master still has the spark of genius, breathing new life into the vocabulary he has developed over more than a half-century of visionary filmmaking." - Film Historian Gene Youngblood
Purchase through this link, ORDER HERE
Private home use ONLY, $30. No public exhibition is permitted
Institutions $200 (For classroom and library use only. Does not include public performance rights, may not be used for public screenings or any type of museum/gallery exhibitions. By ordering you agree to these terms)
---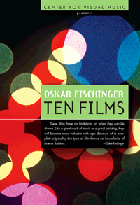 Oskar Fischinger: Ten Films DVD (2006) CVM Release
Films include Spirals, Study Nr. 6, Study Nr. 7, Kreise (Circles), Allegretto, Radio Dynamics, Motion Painting no. 1; plus three of Fischinger's very first films: Wax Experiments, Spiritual Constructions, and Walking from Munich to Berlin. Bonus features include Home Movies from Fischinger's Berlin Studio c. 1931, never-released early experiments and animation tests, a selection of paintings and photographs, film notes and a biography. NTSC, region-free. $30 private home use, $200 institutions. (For classroom and library use only. Does not include public performance rights, may not be used for public screenings or museum/gallery exhibitions)
temporarily out of stock, please check back
Private home use ONLY, $30. No other permissions are included, no public exhibition permitted.
Purchase for University or Library use: $200. Use this link to order for institutions, with a limited educational license (classroom and library use only, no other public performance or exhibition rights included)
---
81 minute DOCUMENTARY on DVD: LUMIA: Thomas Wilfred and The Story of Light Art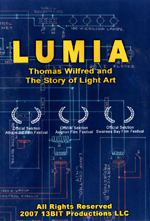 Lumia is the story of Thomas Wilfred and the birth of light art. Wilfred captivated audiences throughout the 1920's and 30's with his sensational projected light shows, named Lumia. Wilfred spent his later years making automated versions of his work and executing commissions for private collectors and museums. Includes segments on artists Charles Dockum, Chris Sidenius, Mary Hallock Greenewalt, and Earl Reiback. Includes a brief clip from CVM's restoration of a 1952 Dockum Mobilcolor performance film.
FEATURING Interviews with and commentary by: Craig Antrim, Kerry Brougher, Fred Collopy, Dorothy Conway, Greta Dockum, Eugenia Victoria Ellis, A.J. Epstein, Eugene Epstein, Nancy Frederick, Lawrence Friedman, Hal Glicksman, Robert Haller, Cindy Keefer, Richard Land, Terry Montlick, Otto Piene, Earl Reiback, Jack Shor, Kathleen Sciacca, Christian Sidenius, Steve Smith, George Stadnik, Donna Stein, Karole Vail, Judith Zilczer. Directed by Meredith Finkelstein and Paul Vlachos, 13Bit Prods.. 81 mins, 2008 release. Contact us to order.
Private home use $30. Institutions $100. (Classroom and Library Use, does not include public performance rights)
---

Ordering Information:
Via Credit Card - click the order button next to each item; visit our squarespace shop, or email us at cvmaccess (at) gmail.com
Via Check - For dvds and books, add $6 shipping for first item, 2.00 for each additional item (international shipping is higher, please inquire). CA residents please add 8.75% tax.
NOTE: Institutional rates listed do not include public performance rights, only classroom and library use are permitted. Museum exhibitions do NOT fall under these categories; usage in museum or gallery exhibitions is not permitted for any of the dvds or videos sold by CVM.
Mailing address: Center for Visual Music, PO Box 39527, Los Angeles CA 90039. DVDs are also available for pickup, by appointment
Prices listed do not include shipping. Please allow up to 2 weeks to fulfill order; most ship within 3 business days. We generally don't offer rush shipping unless you provide your fed ex account number.
PLEASE NOTE: We cannot accept returns unless product is defective.
---
For additional information, or to order several dvds at once,please contact us at cvmaccess (at) gmail(dot)com
Membership - Become a Member of CVM and help support our work preserving and promoting Visual Music. Vintage premiums include Fischinger, Whitney, Moritz posters, ephemera and other items.
JOIN our Mailing List: subscribe via email - list at centerforvisualmusic dot org