CVM Store: The Sixties
Our store as moved to Squarespace, please visit us here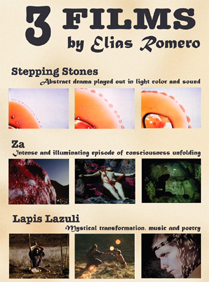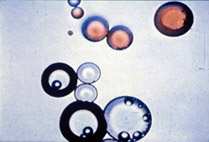 3 Films by Elias Romero (1968-1972), DVD, 2008. Elias Romero is considered to be the Grandfather of the Light Show. In San Francisco in 1956 he began developing a performance medium using overhead projectors. He mixed oils and inks in dishes placed on the projectors, passing light through the translucent blend which was then projected onto a screen. He performed hundreds of shows throughout California, accompanied by musicians and performers. Many of the later psychedelic light show artists were inspired by his work. In 1969 he met Richard Edlund (camera), and they began making films with Bill Spencer (music) and others. Stepping Stones (33 mins) - Abstract drama played out in light, color and sound - is made up entirely of original vintage light show projections, excerpts of which were featured in the 2005 Visual Music exhibition at the Smithsonian's Hirshhorn Museum and The Museum of Contemporary Art in Los Angeles. Za (24 mins) - An intense and illuminating episode of consciousness unfolding, features projections onto Diane Varsi as poet and alchemist, and costumes by Cameron. Lapis Lazuli, (29 mins) - Mystical transformation, music and poetry, with Bill Fortinberry and Susan Darby, shows them meeting simultaneously on different myth-planes. The DVD Bonus Features include: "Notes on 3 Films" - a Documentary with interviews with Elias Romero and Edlund, and a Gallery featuring other artwork by Romero. NTSC. TRT approx 2 hours.
Private home use $25. Institutions $100 (Classroom and Library use only; public performance rights are not included)
---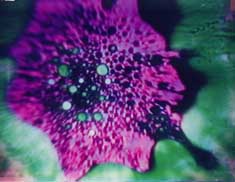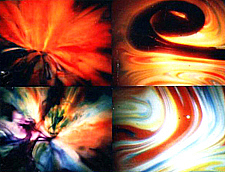 Joshua Light Show Liquid Loops (1969), Special Collector's Edition DVD signed by Joshua White. The famous Joshua Light Show liquid loops! Available on DVD for the first time. These liquids were created in the sixties with oil, water and glycerin, and performed as live projections. During their residency at New York's Fillmore East, the Joshua Light Show performed with hundreds of bands, like The Doors, The Who, Janis Joplin, The Band, Jefferson Airplane, Jimi Hendrix and Frank Zappa. The Liquid Loops were acquired by MOMA New York and are a part of their permanent collection. This special edition DVD is signed by Joshua White, and purchase at the $200 level includes public performance rights. The liquid loops may be exhibited, and excerpts may be incorporated into other live performances, but they may not be recorded or distributed. Silent, NTSC DVD. Special Collector's Edition, available exclusively through CVM. $200 includes public performance rights. Another edition of the DVD is now available, signed, for private home use only, for $50. Out of stock
$200, Includes public performance rights, details above
$50, private home use only, no public performance rights. Signed sleeve.
---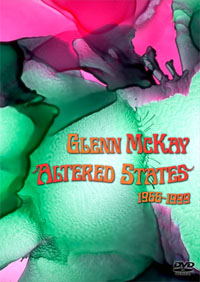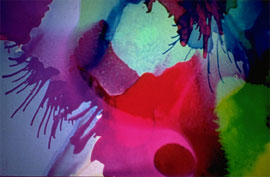 Glenn McKay: Altered States 1966-1999. DVD (2005). Glenn McKay's light art will mesmerize you with brilliant colors and music from four decades on this new DVD release. In four movements, the Altered States dvd starts with vintage rock from Jefferson Airplane (Plastic Fantastic Lover, Volunteers), set to McKay's early 60's pulsating sensory overload style. The 70's evolve into a tweaky sound track by Knox Bronson, electronic culture mastermind, with scenes from McKay's world travels in a highly abstracted form. The 80's movement travels into pure geometric and color abstractions, with an uplifting electronic/acoustic soundtrack by Dean Evenson. McKay's 90's movement goes deep into fantastic liquid color landscapes with a dark, electronic music voyage crafted in collaboration with McKay by Greg Jalbert. This DVD captures McKay's main installation exhibit (a 4 decade retrospective of video and slides) at the San Francisco Museum of Modern Art in 1999: "... brings the viewer into a strange and beautiful environment fusing light and sound to create a new experience." (Robert Riley, SFMOMA Curator of Media Arts). Contains additional 60's film footage by Scott Bartlett and Jerry Slick. DVD, ntsc, TRT: 64 mins. out of stock
Private home use only $39.95 (no educational/institutional rights)
---
Ordering Information:
Via Credit Card - Order through Squarespace (link at top), or contact CVM with your order at 213-683-1514 or cvmaccess at gmail dot com
NOTE: Institutional rates listed do not include public performance rights (except the Joshua Light Show DVD), only classroom and library use is permitted. No usage in museum or gallery exhibitions is permitted for any of the dvds or videos sold by CVM, please inquire for information on additional permissions and procedures for such requests.
---
For additional information, please contact CVMaccess(at)gmail(dot)com