Jordan Belson - 5 Essential Films DVD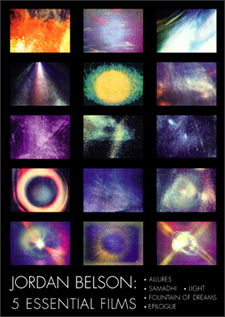 Allures (1961), Samadhi (1967), Light (1973), Fountain of Dreams (1984), and Epilogue (2005)
"These five films by Jordan Belson, representing his early, middle, and later periods, are essential for three reasons: the early classics were breakthrough masterpieces, the previously unreleased "Fountain of Dreams" is a dazzling revelation from the middle period, and the shimmering "Epilogue" from 2005 makes it clear that the master still has the spark of genius, breathing new life into the vocabulary he has developed over more than a half-century of visionary filmmaking." - Gene Youngblood
---
Private Home Use Orders - $25
Permission is not included for any public usage, or any use online, you accept these terms with your purchase.

Order online here: Order form Note, sales tax for California customers has increased and will be adjusted

Order by mail: Private Home Use form (PDF)

NOTE: Postage to Europe has increased and will be adjust to $11

The DVD can also be purchased in Europe at Red Avocado Films (Germany) online; in London at BFI Southbank's Filmshop; in Paris through HEEZA; and through Re:Voir, Paris online (for European private home use sales only). In Japan, through Meditations (Kyoto), online.
Institutional Orders - US$150
Limited educational license allows for screenings in classrooms and library/research collection use only. Public Performance Rights are not included (screenings for public audiences, and exhibition in museums and galleries are not permitted under this license. Other uses require additional permissions and licenses).

Order online here: Order form

Order by Mail: Institutional Order Form (PDF) Note, sales tax charged to California customers has increased

Can't open the PDF forms? Download a free Adobe Reader here
---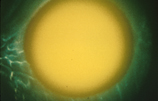 Jordan Belson: Biography

About the Films on the DVD

Jordan Belson: Bibliography
---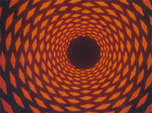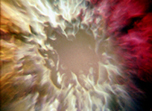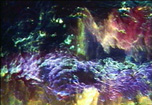 DVD 2007 release, NTSC, Region-free
Color, Sound, 4 x 3
TRT approx 45 minutes

Curated by Jordan Belson. Produced by Center for Visual Music
Films and Stills © Estate of Jordan Belson
DVD © Center for Visual Music, 2007

Licensed for private home use only, all other rights reserved




Center for Visual Music
453 S. Spring St., Suite 834, Los Angeles, CA 90013

Email CVM at cvmaccess (at) gmail.com


Center for Visual Music is a nonprofit film archive dedicated to visual music, experimental animation and avant-garde media.
---