NEW DVD Releases
Back to CVM Store
Please visit our new store pages here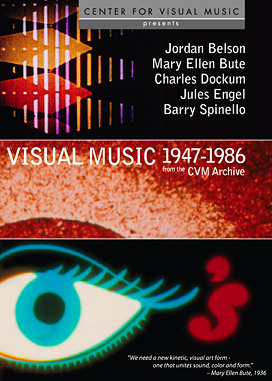 A new CVM DVD release, February 2017. Order through this link or through our new store pages

Visual Music 1947-1986 from the CVM Archive: Belson, Bute, Dockum, Engel, Spinello. Thirteen rare films featuring pre-computer abstraction, using a variety of techniques including early oscilloscope experiments, color organs, hand-drawn sound, animation drawn directly on film, painted scrolls, and optical printing. Films from the archive of Center for Visual Music.

Films include Jordan Belson's Mandala, Chakra and Meditation; Mary Ellen Bute's Polka Graph, Abstronic and Color Rhapsodie; Charles Dockum's 1969 Mobilcolor performance film, 1952 Mobilcolor Performance at the Guggenheim, and 1966 documentary about Mobilcolor. Plus Jules Engel's Mobiles, Play-Pen, Landscape. New HD transfers, many restored films. NTSC, Region free. TRT 78:30. Produced by and (c) Center for Visual Music. $30 private home use, $200 institutional purchases.
---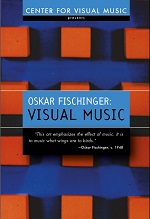 The second Oskar Fischinger DVD. December 2017 release from CVM. ORDER HERE
---
---
Christopher Maclaine, Beat Films. PAL DVD, $35 private home use, $200 Institutional purchase. See our Avant-Garde DVDs page
Jeff Scher, A Year in the Animated Life. $20 individuals, $100 institutions. See our Animation page.
---
International Animation Collaborations DVD. Includes Academy Leader Variations (1987), Animated Self Portraits (1989), Dance of Nature (1991) and Genghis Khan (1993). Proceeds from sales of these DVDs will support ASIFA children's animation workshops throughout the world. $35 private home use, $100 institutions. Inquire to order.
---
Ordering Information:
Via Credit Card - Follow the links to the order pages for selected DVD, or contact CVM with your order via cvmaccess (at) gmail dot com or at 213-683-1514
Via Check - For dvds, videos and books, add $5.50 shipping for first item, $1.00 for each additional item, for shipping to US. Canada and International orders, please inquire or use credit card links on each order page. CA residents please add 8.75% tax.

Via University/Institutional PO - contact us at cvmaccess (at) gmail.com NOTE: Institutional rates listed do not include public performance rights, only classroom use and non-paying educational use is permitted. Museum exhibitions do NOT fall under these categories; no usage in museum exhibitions is permitted for any of the dvds or videos sold by CVM, please inquire for information on additional permissions and procedures for such requests.
Mailing address: Center for Visual Music, PO Box 39527, Los Angeles, CA 90039.
Prices listed do not include shipping. Please allow up to 2 weeks to fulfill order; most ship within 3 business days.
PLEASE NOTE: We cannot accept returns unless product is defective.
---
For additional information, please contact CVM Store at cvmaccess(at)gmail(dot)com