Center for Visual Music - Store
Other Avant-Garde DVDs
not all specifically visual music, these are important works we recommend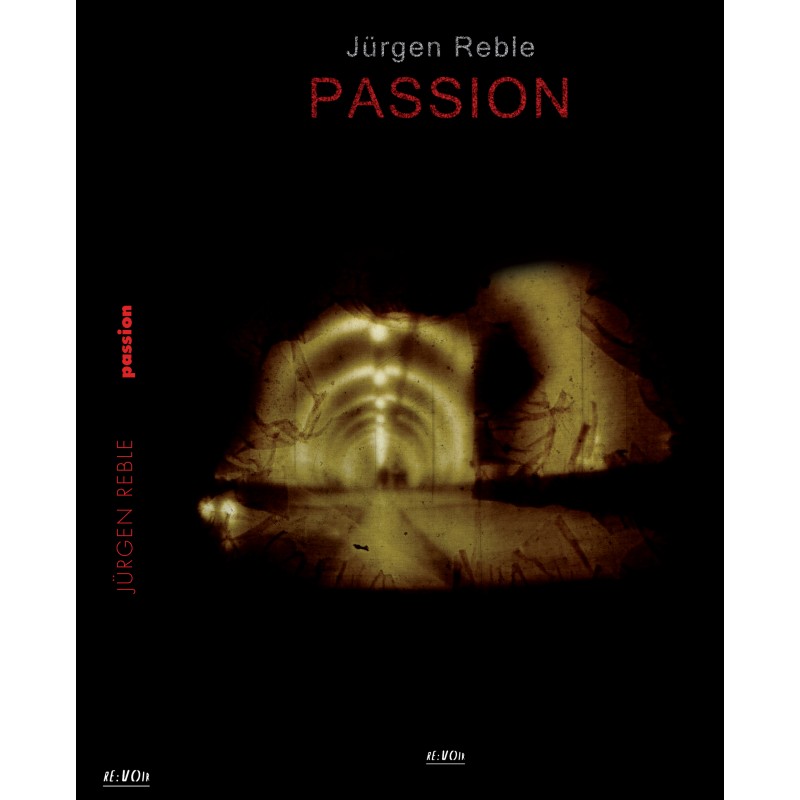 Jurgen Reble, Passion. PAL DVD, A Re:Voir release.
A personal film journey. Jurgen Reble, former member of the German filmmaking group "Schmelzdahin" (dissolved in 1989), focuses on exploring the film material through bacterial processes, weathering and chemical treatment during and after development. "The basic idea is that it is impossible to fix film. Film is something which is always in a state of flux... The images, "real" in the beginning, gradually disintegrate and the gelatine layer -- where the chemicals are embedded -- dissolves. All that's left in the end is the 'raging of the elements'..." (J. Reble). PASSION (1989-1990) b/w & color, originally Super 8, 54 mins. PAL, region 0. Re:Voir DVD release, 2015
Private home use $35.
Institutional use $200 (permits classroom and library use, no other public exhibition permitted, use in galleries and museums prohibited)
---
NEW Christian Lebrat, Vibrations. PAL DVD, a Re:Voir Release. Films include: FILM NUMÉRO DEUX (1976) * COULEURS DÉLICIEUSES SUR FOND BLEU (1976) * ORGANISATION I (1977) * LIMINAL MINIMAL I ET II (1977) * RÉSEAUX (1978) * TRAMA (1978-1980) * AUTOPORTRAIT AU DISPOSITIF (1981) * HOLON (1981-1982) * LE MOTEUR DE L'ACTION (A.M.D.) (1985). Christian Lebrat's cinema deals with questions of structure and color in a perpetual attempt to escape the frame's constraints. As the screen explodes with stroboscopic rhythms and abstract combinations of shapes based on rigorous mathematic schemata, color and film form are objectified. The film becomes an enveloping psychedelic experience for the viewer, where the abstract intersects with the "real", and the vibration of color transforms the very act of looking. V118. $30 private home use, $200 institutions. Email to order. TRAILER ON VIMEO
---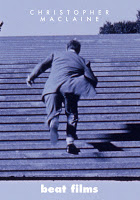 Christopher MacLaine : Beat Films. PAL DVD, Re:Voir Release. V120. Contains:
THE END 16mm 1953 35 mins. (Shot by Jordan Belson)
THE MAN WHO INVENTED GOLD 16mm 1957 14 mins
BEAT 16mm 1958 6 mins
SCOTCH HOP 16mm 1958 6 mins
"With Maclaine, we are going back to the sources of the Beats; he was the filmmaker who chronicled the movement as it happened and created a center of one of the aspect the Beat myth eight years before the grand epic of 'Beat' became nationally known with Allen Ginsberg and Jack Kerouac... I have seen The End more than fifty times, and there are moments when I still begin to tremble at the psychological blockages and outright terror of it. Unquestionaby, it is Maclaine's masterpiece."
-Stan Brakhage
$35 private home use, $200 institutions. Email to order.
---
Paul Sharits: Mandala Films

Contains:

Piece Mandala / End War, 1966, color, silent, 5 min.
N:O:T:H:I:N:G, 1968, color, sound, 36 min.
T,O,U,C,H,I,N,G, 1968, color, sound, 12 min.
PAL only. A Re:Voir Release. Includes a booklet by Vincent Deville with writings by Paul Sharits.
In the mid-1960s, Paul Sharits developed an abstract cinema in radical opposition to the pictorial tradition. His works taken together propose a reflection on the very nature of cinema and its component parts: the film strip, single frames, the flow of
film through the projector, sprocket holes, screen, projections. Using mainly the flicker technique (flickering between pictures and colors), he highlights frame by frame discontinuity, thus revealing the hidden powers of editing. $40 home use, $200 institutions
Private home use $30. Institutions $200 (permits classroom and library use, no other public exhibition permitted, use in galleries and museums prohibited)
---
Michael Snow Presents. PAL DVD, Re:Voir Release.$35 private home use, $200 institutions. Inquire to order
---
Berthold Bartosch, L'Idee. PAL DVD. Re:Voir release. Bartosch's only surviving film was completed single-handedly in Paris in 1932. Almost 45000 frames were animated on four different levels simultaneously, often with as many as 18 superimpositions made in the camera. "(...) Bartosch showed that animation could be POETIC... It was Bartosch who first dared to give animation the dimension of a great art, trusting it to voice his pain, to lay bare his heart, to tell of his hope for a better future - which he never saw." - Alexander Alexeieff and Claire Parker, 1969. V119. $30 private home use. Institutions, $200. Email to order
---
Ordering Information
Please contact CVM for DVDs on this page, cvmaccess (at) gmail.com
We can no longer accept orders through CCNow system, which stopped pay us and owes CVM hundreds of dollars! Beware this system.
Our new store site is here

University/Institutional orders - contact us at cvmaccess at gmail.com. NOTE: Institutional rates listed do not include public performance rights, only classroom use and non-paying educational use is permitted. Museum exhibitions do not fall under these categories; no usage in museum exhibitions is permitted for any of the dvds or videos sold by CVM, please inquire for information on additional permissions and procedures for such requests.
Mailing address: Center for Visual Music, PO Box 39527, Los Angeles CA 90039 (Tel 213-683-1514). DVDs may be picked up, by arrangement only, in LA or Glendale.
Prices listed do not include shipping. Please allow up to 2 weeks to fulfill order; though most ship within 3 business days.
PLEASE NOTE: We cannot accept returns unless product is defective.
---
For additional information, please contact cvmaccess (at) gmail (dot) com
MAILING LIST: subscribe via email to list (at) centerforvisualmusic.org