Rare Books, Ephemera, Posters
In many cases only ONE is available.Prices do not include shipping. Email cvmaccess (at) gmail (dot) com to purchase, or use order link if applicable
Rare and out of print Books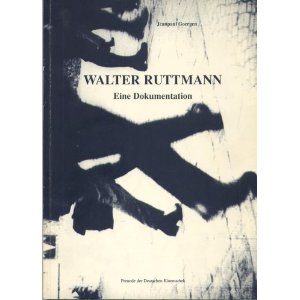 EXTREMELY RARE: Walter Ruttmann, Eine Dokumentation. Goergen, Jeanpaul, Ed. Definitive biography edited by the expert on German animation. Published by Freunde der Deutschen Kinemathek (1989), paperback, oversize. German language. Out of print for many years. Has Elfriede Fischinger's Wonderland Park, Los Angeles address stamp on title page (lower right corner), also on back inner cover, lower right. $200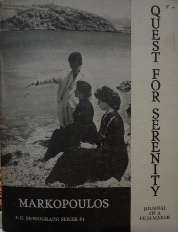 Gregory Markopoulos. Quest for Serenity: Journal of a Filmmaker. First edition, SIGNED. No. 707 of edition of 1000. F.C. Monograph Series, New York Film-maker's Cinematheque, c. 1966. $300.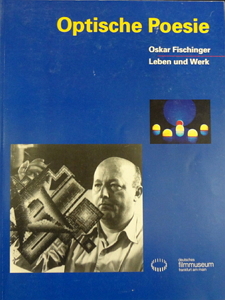 Optische Poesie, Oskar Fischinger: Leben und Work. Herbert Gehr, Ed. Contains extensive essay by William Moritz. Published by Deutsches Filmmuseum, Frankfurt, 1993. Kinematograph Nr.9. 111 pages, color and b/w illustrations. German language. $75
----------------------------------------------------------------------
EPHEMERA and POSTERS

James WHITNEY vintage fold-out publicity flyer/film notes, for his films Wu Ming and Dwija. Contains quotes and texts about the films, some by William Moritz. Detail here. While supplies last. $50
Also available, similar fold out flyer for Yantra/Lapis, $75. Purchase on our squarespace shop,
--------------------------------------------------------------------------------------------------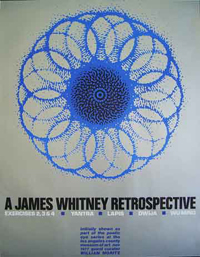 James Whitney/William Moritz "Lapis" poster for 1977 Los Angeles County Museum of Art series, "A James Whitney Retrospective," guest curator William Moritz. Reverse has text by Moritz and others about James Whitney's films. 21x 16 inches. Shipped rolled in tube. $125. Purchase at our squarespace shop.
FEATURED ITEM: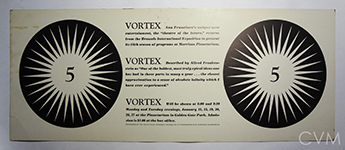 VORTEX V. Rare original advertising poster (1959) from Jordan Belson/Henry Jacobs' experimental concert series at Morrison Planetarium, San Francisco. 11 x 28 inches, on posterboard heavy stock. Light wear left side, some staining upper left. An extremely rare item from the legendary events. Vortex original items are not available elsewhere, and rarely enter the market. Inquire.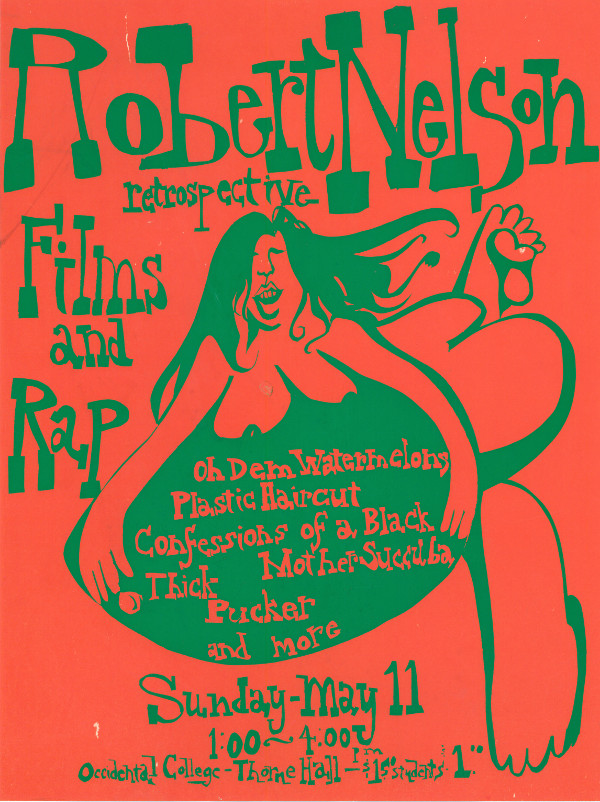 Vintage Robert NELSON poster, from Los Angeles screening at Occidental College. 22 x 17 inches. Good condition, a few slight nicks, as shown. Shipped rolled in tube. $125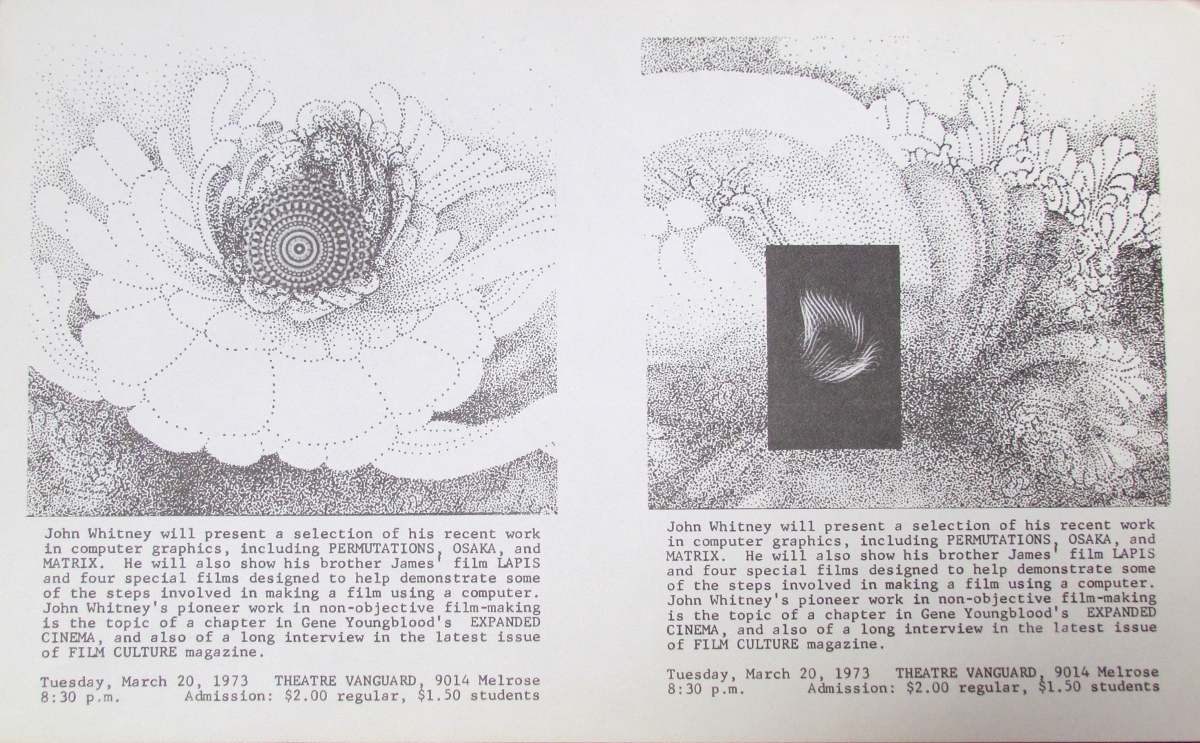 John WHITNEY scarce original advertising flyer from Theatre Vanguard, Los Angeles screening, 1973, uncut, 2 on page. 8.5 x 14 inches, on paper. William Moritz programmed a series of avant-garde film shows at Vanguard in the 1970s, and likely designed this flyer.
$60.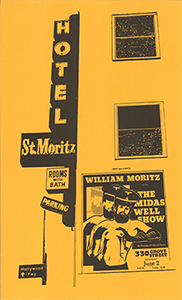 William MORITZ flyer from The MidasWell show, c. 1979. Robert Opel was one of the show's presenters. Verso has extensive program notes for the six films included in the show, including full cast of characters for each film. Also in the show, "poly-moog performances by Sunshine."

$75.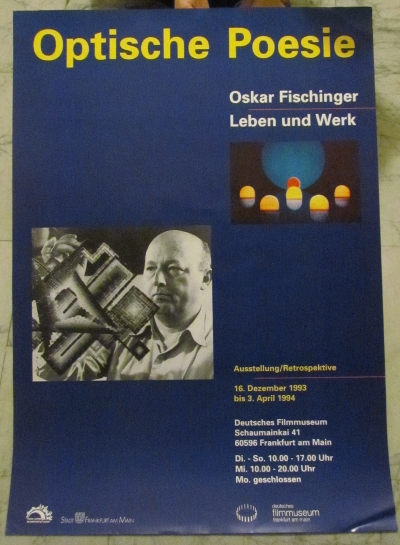 Oskar FISCHINGER, Large poster from Optische Poesie exhibition at Deutsches Filmmuseum, Frankfurt, 1993-94. Some wear at bottom. $50 SALE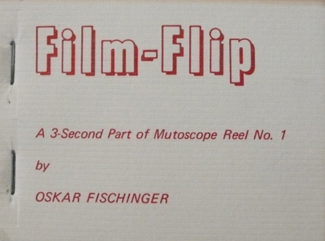 Oskar FISCHINGER, Film-Flip. Vintage Flipbook produced by Elfriede Fischinger. This is a flip book of a portion of an abstract film by Fischinger: "A 3-Second Part of Mutoscope Reel No. 1." Approximately 150 pages, stapled stiff wrap binding. Published in small edition. With Elfriede Fischinger 's stamp on verso. SOLD
Oskar FISCHINGER, Original program from his last Lumigraph performance at San Francisco Museum of Art, "An Evening with Oskar Fischinger," 1953, at the end of the Art in Cinema series. Film screening and performance. 14 x 8.5 inches. $75. IMAGE
---------------------------------------------------------------------------------
PERIODICALS
Articulated Light: The Emergence of Abstract Film in America. O'Grady, Gerald and B. Posner, eds. Published by Harvard Film Archive and Anthology Film Archives. Extensive Program Notes from legendary 1995 experimental film festival. Contains articles, biographies, filmographies. Authors include William Moritz, Robert Haller, Cecile Starr, many more. $10
Cantrills Filmnotes no 19, October 1974. Includes their extensive interview with Harry Smith, not published elsewhere. $15 PB, New.
Film Culture Journals - vintage originals
Sold
A PDF index of Film Culture issues can be found online for issues 1 - 75, thanks to Philip Hood/Public 16- 32 MB PDF
---
Prices do not include shipping. Contact us at cvmaccess (at) gmail.com. For CA purchases, we will add sales tax. We accept MC, Visa, Amex; paypal, or checks in US dollars drawn on US banks.