CVM Collections and Archives
CVM houses growing collections related to visual music, abstract cinema, experimental animation and avant-garde media. CVM's archives house the world's largest collection of resources on Visual Music. The collections include film/video/digital media and related papers, books, monographs, artwork, animation process materials, documentation, photography, equipment and artifacts. CVM owns the films, papers, and many animation drawings by Oskar Fischinger.
Committed to the curation, preservation, promotion and access to these multimedia collections, the Archive holds collections of artists whose careers reflect unique aspects of cinema. Among these artists are Oskar Fischinger, Jordan Belson, Charles Dockum, Jules Engel, Ed Emshwiller, Hy Hirsh, Mary Ellen Bute and James Whitney; numerous contemporary artists; and the original research collection and archives of film historian Dr. William Moritz, encompassing his 35+ years of research on Visual Music, Fischinger and Avant-Garde Cinema. See below for details on specific materials in these Collections.
CVM owns the Oskar Fischinger films and administers the rights for these films. CVM's collections include preserved film material for artists including Oskar Fischinger, Jordan Belson, Mary Ellen Bute, Jules Engel, Charles Dockum, John and James Whitney, Harry Smith, John Cage, John Stehura and others. At present we do not distribute the Whitney films, or the Harry Smith.
CVM has selected film excerpts and trailers for our DVDs online at our CVM channel on vimeo.com/ We have a few titles on our vimeo VOD channel.
CVM licenses digital copies of selected Fischinger, Belson and Bute films (and other artists' work) for museum exhibitions, under appropriate circumstances. For a list of museum exhibitions with films from our collections, please see our Screenings and Events page.
CVM's archive includes an extensive collection of Hy Hirsh original photography and research materials. CVM's collections include holdings in numerous areas of Visual Music, including documentation (film, video, clippings, documents, photos, monographs) of early color organ experiments and 1960s light shows; extensive resources on Color Music, the history of avant-garde cinema in California, and the history of Visual Music. See below for more details. Some resources can also be found on our online Library. We're launching online exhibits featuring materials from the collection through a Patreon channel in Spring 2019, contact us for more information..
CVM also collects work of selected Contemporary Artists, and has a collection of film/video/digital work and artwork for a range of Visual Music artists across many decades.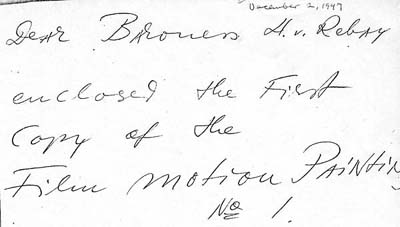 Our unique collections are used by scholars, researchers, curators, authors and many others worldwide who travel to research at CVM. Scholars, students, and other researchers working on bona fide topics are invited to call or write to inquire about the materials. Our Los Angeles office and research library are currently not open to researchers, due to covid concerns. In certain cases photocopies of some unrestricted paper materials may be provided to off-site scholars and researchers. Please see the researcher guidelines below for more info on remote access to paper and film materials. Some selected materials may be studied on our Patreon channel. Please note, CVM does not rent or sell film prints to individuals.
The collections: Film and Video
The collections: Special Collections: Fischinger, Moritz, Belson and CVM General Collection including Color Organs, Visual Music Alliance, Theatre Vangard, Film Culture and other collections
Researcher guidelines, terms of use
Requests for photo reproductions
Requests for Museum/Exhibition licensing, sales
Loading
NOTE: While the above pages are under construction, we also refer you to our online Library for reference material, and our online store offering research copies of films on DVD and videotape, plus books and journals.
Please direct questions and inquiries to:
Center for Visual Music
Contact us - cvmaccess (at) gmail (dot) com

BACK to home page



Last modified summer 2021