Mandala screened at ACMI, Melbourne, in CVM's Oskar's Legacy program, July 5.


2021 - recent screenings
Allures and Mandala screened at the Tokyo Museum of Photographic Art, Yebisu International Festival for Art & Alternative Visions, in a new program from CVM: Oskar Fischinger, early Motion Graphics and Visual Music. 3 screenings in February.
Recent 2020 museum exhibitions with films
Several films including Fountain of Dreams (film still below) and Allures were included in a group exhibition, Soundmuseum at Daelim's D Museum, Seoul. May-December, 2020. Part of a special CVM Visual Music section with 11 films, including films by Fischinger and Bute.
Fall - Music of the Spheres was on view in The Botanical Mind exhibition, at Camden Arts Centre, London. An accompanying online exhibition is here.. See the As Within section.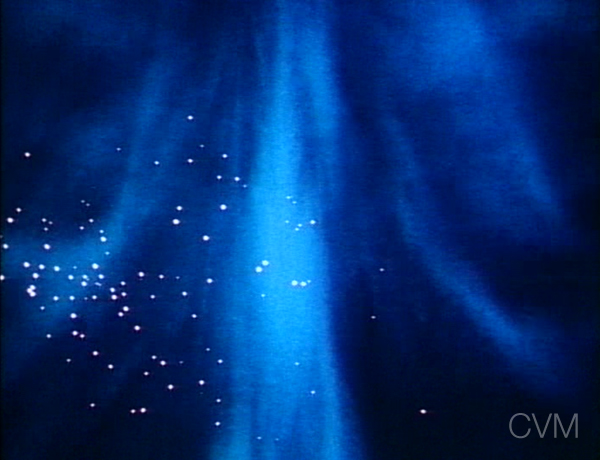 2020 - screenings
October - Mandala screened at ANIFILM, Czech Republic, in a new compilation program from CVM, Oskar's Legacy.
January - Allures and Momentum, 16mm restored prints from CVM, screened at Museum of the Moving Image, New York
2019
December - 2 Belson films from CVM, including a 16mm preservation print of Allures plus Samadhi (digital), screened at Spoutnik Cinema, Geneva. Accompanying the exhibition "By repetition" at Bâtiment d'art contemporain.
May - 4 Belson films from CVM, including 3 restored 16mm prints, screened at Light Industry, Brooklyn, NY.
2018
October - one film screened at Castle di Rocco Sinibalda, a medieval castle near Rome, in two CVM Visual Music programs.
October - Bop Scotch screened at Sonoma Film Institute (California) in CVM's program Music for the Eyes: Visual Music Films from CVM:
August - Several Belson films (Allures, Mandala) screened in programs at CVM's summer Visual Music Symposium in Sonoma County, CA
May - Allures screened in Visual Music Films from the CVM Archive program at ArtsBlock, UCR, Riverside, CA
2017
CVM released a compilation DVD with 3 rare Belson films, Chakra, Mandala and Meditation, Visual Music 1947-86 from CVM Archive. Order here: CVM shop
Belson Retrospective program screened in Berkeley (BAM, Feb 7), London (BFI Southbank, Feb 28) and Centre Pompidou, Paris March 3 (see CVM Screenings page for details).
February - May, 2017 - Allures was part of the Hippie Modernism exhibition at Berkeley Art Museum. Digital, looped in a small room downstairs with other films.
2016
September - December, 2016 - Belson's Samadhi plus some artwork were a part of the São Paulo Bienal, Brazil.
November - several Belson films screened in a CVM salon in Los Angeles, also at other CVM Salons at Horse Hospital, London and Oxford University.
October - three Belson films screened at Whitney Museum, NY, in the screening series accompanying Dreamlands exhibition
October - Samadhi screened in the BFI's London Film Festival
April 30 - July - Bop Scotch screened in the Syncopated Cinema series at the new Len Lye Centre, New Zealand, various dates
May 9 - Music of the Spheres (original long version), Chakra and LSD, in new preserved 16mm prints, screened at the International Short Film Festival, Oberhausen, Germany (with Fischinger, Cage and other films) in the Archives section, a Center for Visual Music presentation.
Belson films (digital,installations) were featured in two recent museum exhibitions, Allures (new HD transfer) in Hippie Modernism at Walker Art Center, Minneapolis and Samadhi in Cosa Mentale at Centre Pompidou Metz (closed March 2016). Both opened October 2015, see our Belson distribution page. The Jordan Belson Retrospective Film Program also screened at Walker on October 24. Hippie Modernism will travel to Berkeley Art Museum in February 2017.
Four of Belson's pastels were in an exhibition in New York at 80WSE Gallery, in Language of the Birds: Occult and Art, through February 13, 2016.
February 5 - Re-Entry (video) screened at Pacific Film Archive, Berkeley, in a program curated by Sheldon Renan
CVM received a grant to preserve Mandala. Thanks to the National Film Preservation Foundation.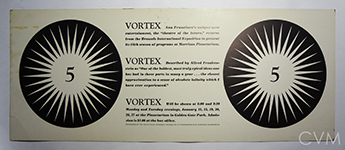 CVM is pleased to announce an original advertising poster from Vortex V (1959) has been donated to CVM for fundraising purposes. We thank the Estate of Jordan Belson for this generous donation. Proceeds will benefit the Belson preservation and digitization project at CVM. A rare original advertising poster (1959) from Jordan Belson and Henry Jacobs' experimental concert series at Morrison Planetarium, San Francisco. 11 x 28 inches, on posterboard heavy stock. Light wear left side, some light staining upper left. An extremely rare item from the legendary events. Vortex original items rarely enter the market. Inquire.

New HD transfers and preservation projects are underway; please consider helping to digitize Belson's work. Donate via paypal to cvmarchive (at) gmail.com. Donations from this project have helped us transfer films and put a few clips online on our vimeo channel (thanks to previous donors, see below for names).
Many more films need preservation and digitization (examples above and at top of page, from just a few films needing digitization), please Donate via paypal (all amounts help), call us with your credit card #, or contact us if you'd like to sponsor a film or help us put more clips online. It is very difficult now to obtain grants to assist with digitizing the 16mm originals, particularly the experiments and unreleased films.
CVM gratefully thanks those who have contributed to the digitization and preservation project for Belson's films: Scott Snibbe, Scott and Isabel Draves (plus a matching gift from Google), Stephen Fisher, Michael Robinson (PA), Suzanne Perkins & Bertram Gordon, Mark Lamb, Marcos Ortega Miranda, John Teton, Stephen Fisher, David McConville, Stephen Beck, Stuart Heaney, Joshua Seaver. All amounts are helpful.
Donate via paypal to cvmarchive (at) gmail (dot) com
Free excerpts online:
Music of the Spheres (excerpt) from CVM on Vimeo.
Excerpt from World (1970) on vimeo
Excerpt from Bardo (2001) on vimeo
Screenings, 2015
CVM's Retrospective film program at Walker Art Center, October
Chakra and Allures in a program at Barbican Centre, London, curated by CVM director Cindy Keefer for Barbican
Allures in "The Real Zone :: cinema in cybernetic space" screening at CAC, Vilnius, Lithuania
Recent screenings, 2014
The never-released film LSD (c. 1962) screened at MoMA New York in November 2014, as part of their annual Festival of Preservation. Presented by CVM with several other films from CVM's archive (Oskar Fischinger, John Cage).
Belson films from CVM screen in the Jerusalem and Tel Aviv Film Festivals in August; and at BFI Southbank, London in November in Jet-Propelled Cinema: How Psychedelia Infected Hollywood Sci-Fi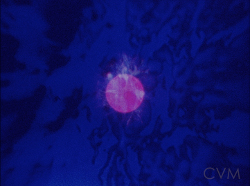 CVM's new program of New Restorations and Discoveries (includes LSD, a presentation reel from Vortex V, and the unfinished Quartet, c. 1983 ) recently screened at Bard College, New York, with newly restored 16mm prints. Image above, still from Quartet. This program previously screened at Hammer Museum/UCLA and Tate Modern in 2013.
2013 News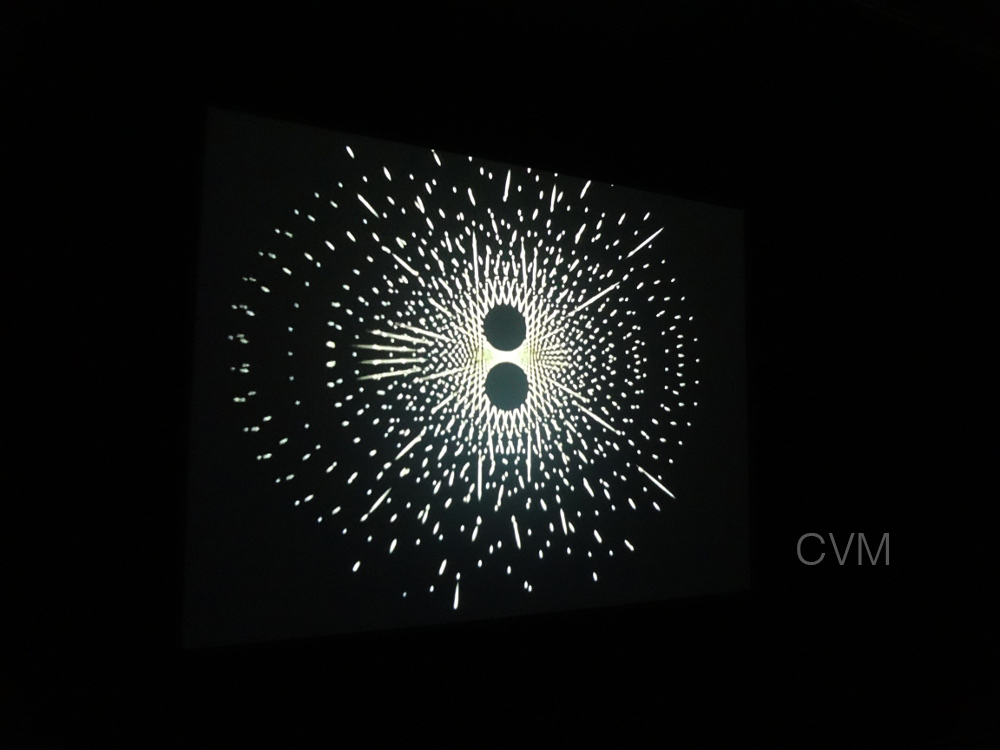 Installation view, Séance at Raven Row, (c) CVM
Three films by Belson (Séance, World and Chakra) were in Reflections from Damaged Life: an exhibition on Psychedelia exhibition at Raven Row, London, curated by Lars Bang Larsen. September-December. Extensive reviews in artforum, Frieze, CLOSE-UP, more. (NOTE: CLOSE-UP contains some errata on Vortex)
Three September Belson events in the UK! Tate Modern, Arnolfini Centre and Raven Row. See CVM's Events page and the Belson Retrospective page, At Tate Modern, the Premiere of new preservation prints of LSD and a Vortex V presentation reel (1959). Program also included the unfinished Quartet (c. 1983). This new program from CVM also screened in December at UCLA Film and Television Archive's Billy Wilder Theatre, Hammer Museum, Los Angeles.
New HD transfers and preservation projects underway; new 16mm preserved print of LSD
Spring, 2013: Re-entry in Berlin exhibition at HKW
2012 News
Fall 2012 dates for screenings of the Retrospective program in New York, Boston, Toronto and other cities, details here.
CVM received a preservation grant for the film LSD, and several reels of Belson's experiments, some from the Vortex Concerts c. 1959.
JANUARY 2012 NEWS: Belson's film Allures (1961) was been added to the National Film Registry List (Library of Congress), for films deemed to be "culturally, historically or aesthetically" significant.
2011 PREVIOUS NEWS:Filmmaker/artist Jordan Belson died peacefully early Tuesday morning, September 6, 2011 at his home in San Francisco, of heart failure. He was 85. In lieu of flowers, Belson's long-time partner Catherine Heinrich requested that donations be made to Center for Visual Music's preservation and digitization work to continue preserving the legacy of Jordan Belson. A Memorial screening occured October 19 at Pacific Film Archive, Berkeley, of CVM's Program Jordan Belson: Films Sacred and Profane, which included an unreleased film by Belson called Quartet. CVM is planning Tribute Retrospective screenings for other cities and festivals through 2012. Details to follow as confirmed, see Screenings special page or visit CVM's screenings and events page.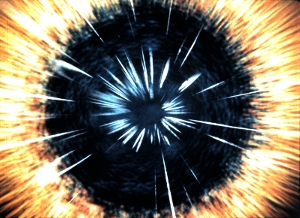 image from World
Before his death, Belson signed a statement asking people not to put his films online, as low res copies do not do justice to his work. However, we have permission to put a few short high resolution excerpts online - we're raising money now to transfer and digitize from the originals and preservation masters. Help us put a few high quality clips online from World and other films. (Image from World). Contact cvmarchive (at) gmail (dot) com, or Donate via paypal to cvmarchive (at) gmail (dot) com. Our address and phone # are at bottom of page.
Jordan Belson, Experimental Filmmaker, Dies at 85. New York Times obit by Margalit Fox, Movies section, Sept 10.
Please see the Belson bios below. We've posted obits and news items on his death, at the bottom of the Belson Bibliography page.
Gene Youngblood published a very short remembrance of Belson in Millenium Film Journal.