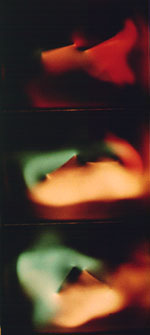 Writing Light
by Elfriede Fischinger
I believe very strongly that Creativity is usually born from a spark - like the accidental flash between two wires hitting together. While average people will be afraid of the spark - scared of fire! - the impulsive, imaginative person will react to the spark. That inventive person will be aroused to action, to work - for after that brief flash, after the initial impulse, then comes the thought, the follow-up, the why and how, the being puzzled, the little tests, the reasoning through - and only then the invention: a long hard path from the instant of inspiration to "Gestalt!"

You can imagine how often I have tried to visualize for myself just what made Oskar Fischinger tick. One evening, for example, for no apparent reason he asked me to get him an old bedsheet. Naturally I wondered why, but no explanation was offered, and I didn't get an inkling of what he was up to for about half an hour. He took that piece of linen to his studio which was a basement in the back yard of our house on Hammond, just off the Sunset Strip. Oskar stretched the sheet over one of the wooden frames he used to mount the canvas for his paintings. Then he came into the house again, and made me hold the contraption parallel to a crack of light that poured in vertically from a bedroom door left slightly ajar, so that a thin layer or veil of light penetrated the dark living room. Then Oskar pushed the center of his bedsheet-screen forward into the thin layer of light with his fingertips. Only the places where those fingertips protruded would catch the light passing just in front of this screen. He moved his hands all over the screen's area, faster and slower, pressing harder forward and pulling back suddenly, so that lines and dots and shining flat pyramids would appear almost hanging in the air, and then disappear again.

This short performance seemed to satisfy his expectations, and without a word of explanation, he disappeared back into his studio, where he worked for several days. I supposed he was making some special effect for a film, until he emerged one day and asked me to telephone around to find specific materials that he had itemized and detailed on a technical drawing. He had me buy several colors of transparent gelatin sheets, pieces of plate glass, wood panels, and some electrical parts - and a rubber baby-bed sheet!

A few days later, he called me down to his studio where he had assembled what he called "The Light Instrument." The wooden panels had become a box-like frame about 1 foot wide and 1 foot deep. This "frame" contained an opening that encased the latex sheet mounted on a wooden canvas-support 3 feet high by 4 feet wide. The colored gels had been fastened to glass strips that rotated on a wheel inside the wooden frame-case, and a thin slit just inside the front edge of the case only allowed the light from the (cool) neon tubes inside the case to emerge at this one point to make a thin layer of light in front of the rubber screen. This light slit was just far enough in front of the screen so that only those portions of the screen that were pushed forward would fall into the path of the light and become visible to the spectator sitting in front of the instrument - and unless something did protrude into the thin light layer, nothing would be visible at all! (The case was even painted black). Each color of gel had been mounted on a different glass strip, and these colored glasses could be rotated by pulling a canvas strip on the back side of the case - Oskar had made a little scale to show you just where to stop to get red, blue, yellow, etc.

After 20 years of working with Oskar, I wasn't surprised to see this marvelous transformation of a bedroom door ajar and a rubber bed sheet into a wonderful, artistic "Gestalt", and I expected to see him play the new instrument so beautifully. But when he urged me to play, I was truly surprised to find that the instrument could be played with the greatest of ease, and I was thrilled to feel the tremendous joy of being able to improvise, to see music take form and color instantly on the screen, responding to each subtle or strenuous dance-like gesture of the player. What an exciting and fulfilling sensuous exercise! When we called in our five children, they, too, had great fun - in fact, all of them wanted to play it at the same time and the usual squabbles added a sporting element to the frolics.

In the next few weeks, we showed the Light Instrument to our best friends as to the neighbors, including the designer, Cleo Baldon. Meanwhile, Oskar was going through all the proper legal channels to make a patent application September 1, 1950 - which was only granted finally almost 5 years later, April 26, 1955, after the long process of searching records for other similar mechanisms!

Everyone who saw this color-play instrument was fascinated and excited. The first official public showing was at the Coronet Theatre, for four nights: January 2, 3, 4 and 5, 1951. Oskar had practiced playing the instrument with the musical accompaniment of phonograph records given to him by an old friend, Harold Kirchstein, who was now known professionally as Henri Renee, arranger for the RKO Radio Orchestra. For some pieces of music, Oskar would play with the screen in place, but for other selections, he would play without any screen. He placed a black curtain behind the instrument, dressed entirely in black (long-sleeved turtle-neck sweater, etc.) but wore white gloves, so that only the movements of his marvelously expressive hands would be visible, floating mysteriously in the darkness. Our daughter, Barbara, still remembers quite a bit of this, as she often worked the cords to change the colors according to Oskar's commands. For a smooth public performance, it took two people to play the instrument - one to perform the choreography of light, and one small, lithe person to pull the cords to change the colors at given cues. When Oskar played a piece like Sibelius' "Valse Triste," he was very particular about the colors, which had to be changed and mixed very precisely at exact moments. Although the latex screen was opaque, Oskar arranged a series of overhead mirrors so that he could see what the spectators were watching out front.

The "Light Instrument" was next publicly shown during a one-man show of Oskar's paintings at Frank Perls Gallery in Beverly Hills, October 8, 15 and 22, 1951. The art critic Jules Langsner was very enthusiastic about the Light Instrument, and wanted to write an article about it in preparation for the Perls show, but he said to Oskar, "If we're going to write about this machine, the baby's got to have a name."

Oskar was offended, and vehemently objected to the term "machine." He asked Jules, "Would you call a piano a machine?"

"No," Jules answered, "because it has a name." So they talked over many ideas, and finally settled on the combination of lumen, the Latin for "light," and graph, the Greek for "write" (hence "graphics") - coining the name Lumigraph, which first appeared on the poster for the Perls show.

About this same time, Phillip Boyer came to Los Angeles. He had given Oskar a one-man painting show in his New York gallery in 1938, but for some reason - I don't remember exactly why - he had just closed his New York gallery. He was quite impressed with the Lumigraph, and sort of "took Oskar under his wing." Boyer negotiated a one-man show for Oskar at the San Francisco Museum of Modern Art - Dr. Grace McCann Morley was the director then. The show, which opened in February 1953, represented all aspects of Oskar's diverse talents, including his 3-D paintings shown as slides in a stereo apparatus, and a retrospective of his films on a program that would end with a Lumigraph performance.

The Lumigraph was shipped to San Francisco at the museum's expense some days ahead. Boyer, Oskar and I only arrived the morning of the program. A rehearsal was scheduled for the afternoon. We parked on the north side of the Museum at a parking meter. The Lumigraph was already set up on the stage, with special black curtains around it and behind it. We all got familiar with our tasks - Oskar would play the visuals, I would pull the color cords, and Boyer would work the phonograph - but before the full "dress rehearsal" they sent me out to put another coin in the parking meter. When I came back to the auditorium just a few minutes later, everyone was gone, and on the stage floor by the Lumigraph lay a big bloody puddle. I stood there bewildered and frightened for a few minutes before a stagehand came over and told me that a large loudspeaker had fallen on my husband's head, and that they had taken him to the nearest emergency hospital.[1] I was shocked and horrified. I found out where the hospital was, and I ran down the street, since it was just a few blocks away. Right as I arrived, Boyer and Oskar came walking out the door. I can't tell you how glad I was to see him able to walk under his own power! Only his nose was all bandaged up. Despite everyone's objections, Oskar walked right back to the stage and insisted upon continuing with the rehearsal! Not until he was satisfied that everything was set up right and working smoothly, did we all return to the Sutter Hotel for an hour's rest.

That evening, during the program, he spoke to the audience in the dark, without a spotlight, explaining that his face didn't look natural. At the end of the film showing, he played the Lumigraph wonderfully, with inspiration and finesse. After the performance, the audience tried to storm the stage to get a closer look at the mysterious light phenomenon and the genius who had produced it, but Boyer made sure that no one could get near the stage or Oskar, in order to preserve the magic of the mood and the illusion. By that time, Oskar's eyes had become so swollen that he had real difficulty seeing.

The swelling had not disappeared until several days later. Oskar's friend and lawyer, Milton Wichner dealt with the insurance company and the Museum. Because Oskar could not finish the Muntz TV commercial by deadline, the negotiations with the insurance dragged on for several months.

Although Oskar never said so in so many words, I know that at this point, he decided he would not show the Lumigraph again. He just let it stand idle, and only the children would play it occasionally. As long as I can remember, he had always been very superstitious. He told me why, and he did have good reasons for his beliefs - but to explain it to you now would take an article even longer than this one!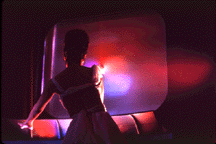 Ten years later much to our surprise Cleo Baldon called to ask if the Lumigraph still worked. Her husband, Ib Melchior, had written a science-fiction screenplay TIME TRAVELERS, in which he described a "Love Machine" that humans of the future would play for erotic stimulation. Ib found the Lumigraph ideal for his purposes, so the film company built a model of the Lumigraph [2] with more powerful light sources so that it could be filmed properly. Oskar was paid $50 and given this new improved instrument - but from Oskar's point of view it was not really improved at all. While it had more powerful hot light since the film was only shot in brief "takes" of one minute or less, no insulation was included, so the instrument could really not be played for more than 1 minute without fire danger! So the second Lumigraph sat idle in our patio for some 4 years, until after Oskar's death, when Robert Pike, head of the Creative Film Society, which had helped to save some of Oskar's films from nitrate, and now distributed the films, sent a scout from the Andy Williams TV show to see the Lumigraph.

Andy was preparing a Special for TV that he called "Kaleidoscope." The scout (I only recall that his first name was Eric) marveled about the Lumigraph and scheduled an evening for Andy and his crew to see my daughter Barbara play it. A contract was duly negotiated, and the next day the TV technicians came to test it out. Much to their chagrin, when they measured the light level, they found that the original Lumigraph did not produce sufficient illumination for the cameras to pick up. A new one would have to be designed and built in less than 3 weeks to meet the TV show's schedule.

By this time Ib Melchior's model of the Lumigraph had fallen into disrepair, but I knew it had worked once for filming, so my son, Conrad, helped me to try to re-build it with proper insulation and additional light power. There were many little problems, and many parts had to be changed, so we did not make the 3 week deadline. But we did produce a new, larger (about 4 foot by 6 foot screen) and more powerful Lumigraph with a motorized color changer that could be operated by the performer with a foot-pedal. Terry Sanders told us we should be able to film it with EF 400 ASA film stock pushed one stop, and perhaps with the camera speed reduced to 12 frames per second. And that's how we shot the film Lumigraph I. The action of the screen was speeded up by the slowness of the camera, but I played a piece of "Synthetic Sound" which Oskar had drawn sometime during the late 40s or 50s, and it worked very well with the dynamic imagery. When the British Film Institute invited me to give a retrospective of Oskar's films in London in 1969, I showed Lumigraph I at the end of the program, and the audience response as so favorable that I was encouraged to try making more Lumigraph films. I also hope to construct another new Lumigraph model which will have a slightly smaller screen, brighter light yet, and some more subtle control of the color changes, so that the performer could stop precisely on one color as Oskar used to do.

Meanwhile, the original Lumigraph will travel again. This time further than San Francisco. It is to be installed permanently in the Oskar Fischinger Room of the Deutsches Film Museum in Frankfurt, Germany, which will open in June of 1984. [3]

This is the story, the history, of how my first Lumigraph film came about. Someday I hope I can produce another Lumigraph film that will successfully satisfy all my criteria by looking just as it does in my mind's eye. Wish me luck!

First printed in Fischinger: A Retrospective of Paintings and Films exhibition catalog (Denver, CO: Gallery 609, 1980). Reprinted in The Relay. 3.2 (May 1984): 4-7. Reprinted in First Light, Robert A. Haller, ed. New York: Anthology Film Archives, 1998: 30-34.
_____________________________________________________________
Article and images from Lumigraph film copyright Center for Visual Music, all rights reserved. Footnotes added by CVM.

[1] Three X-rays of Oskar's head taken at this hospital still exist in the Fischinger collection at Center for Visual Music (CVM), Los Angeles.

[2] According to Barbara Fischinger, Oskar's daughter, this memory is incorrect; it was the second Lumigraph built by Conrad Fischinger which was used for Time Travelers.

[3] Sadly, this room with the Lumigraph and other Fischinger materials on public display, as negotiated by Elfriede, does not exist.

Updates to article: Elfriede's Lumigraph I film screened at Centre Pompidou, Paris (September 2004) accompanying the Sons et Lumieres exhibition. An excerpt from the film was included in the Visual Music 1905-2005 exhibition at The Museum of Contemporary Art, Los Angeles and The Hirshhorn Museum and Sculpture Garden, Washington, D.C. in 2005.

A partial preservation project was begun for this film in 2002 by Dr. William Moritz and The Fischinger Archive. This was the last Fischinger film Moritz worked on. CVM did additional preservation in 2004. An excerpt from the preserved film screened at the BFI, National Film Theatre, in March 2007 during the Optronica Festival.

In February 2007, Oskar's daughter Barbara performed on the original Lumigraph at the Deutsches Filmmuseum, Frankfurt, assisted by Cindy Keefer. They performed on it again in 2012 in Amsterdam. .As a child, Barbara often played with her father, who trained her on the Lumigraph.

Film and video footage of Lumigraph performances is being catalogued and digitized at Center for Visual Music in Los Angeles. Elfriede did indeed continue to film some other Lumigraph performances. The second and third Lumigraph machines remain in California. Some restoration is needed.

Please visit our Lumigraph page at the Fischinger research site online, for more information, images and links. See also Keefer's interview with Barbara Fischinger about the history of the Lumigraph in Keefer, Cindy and J. Guldemond, Oskar Fischinger: Experiments in Cinematic Abstraction (2013)..

--notes by Cindy Keefer
Return to CVM main Fischinger page
Help Support the Preservation of your favorite Fischinger Film
Contact us: cvmaccess (at) gmail (dot) com