OSKAR FISCHINGER: Ten Films on DVD - PRESS KIT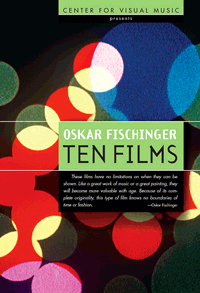 Center for Visual Music presents the first in a series of DVD releases: Oskar Fischinger: Ten Films. This long-awaited DVD contains ten of Fischinger's classic Visual Music films plus many Special Features: home movies from Fischinger's Berlin Studio c. 1931, never-released early animation tests and fragments, a selection of paintings by Fischinger, a selection of biographical photos, film notes by Fischinger and others, and a biography. The DVD features high definition digital transfers, digitally remastered audio, and many preserved films.
Films include Spirals, Study Nr. 6, Study Nr. 7, Kreise (Circles), Allegretto, Radio Dynamics, Motion Painting no. 1; plus three of Fischinger's very first films: Wax Experiments, Spiritual Constructions, and Walking from Munich to Berlin.
"If you love animation, or modern art, or computer graphics, consider it a must" - Leonard Maltin
"At last! The arrival of "OSKAR FISCHINGER: TEN FILMS" on DVD is cause for joy and celebration - the visual poetry of Fischinger in black and white and color is revealed in its full kinetic glory." - John Canemaker, Academy Award-winning animator/filmmaker
"...the material is so exquisite and so compulsively rewatchable..." Jonathan Rosenbaum, Cinema Scope
"Masterworks of pure non-figurative, cinematic expression." - Variety
Street date June, 2006 through Center for Visual Music (www.centerforvisualmusic.org)
Private home use $30, Institutions $200 (limited educational license)
TO ORDER: DVD ORDER PAGE or through Amazon.com Marketplace
DVD, NTSC, Region-free
Color and B/W-Tinted; Sound and Silent
Produced by The Center for Visual Music
in association with The Elfriede Fischinger Trust and Jack Rutberg Fine Arts






Film Stills, L to R: Spirals (1926), Study no. 7 (1931), Kreise (Circles, 1933), Allegretto (1936-43), Radio Dynamics (1942), Motion Painting no. 1 (1947)
QUOTES about Oskar Fischinger:
Decades before computer graphics, before music videos, even before "Fantasia" (the 1940 version), there were the abstract animated films of Oskar Fischinger (1900-1967), master of "absolute" or nonobjective filmmaking. He was cinema's Kandinsky, an animator who, beginning in the 1920's in Germany, created exquisite "visual music" using geometric patterns and shapes choreographed tightly to classical music and jazz. (John Canemaker, New York Times)
Oskar Fischinger is one of the greatest artists of the 20th century, embracing the abstraction that became the major art movement of that century, and exploring the new technology of the cinema to open abstract painting into a new Visual Music that performs in liquid time. (Biographer William Moritz)
(Note, these 2 quotes above are on the DVD sleeve)
"If you love animation, or modern art, or computer graphics, consider it a must" - Leonard Maltin, Video View, 2006
In "Motion Painting Number One," for the first time, visual music was born, creating that deep, emotional, almost pleasurable feeling (as we know it) that we get from good music. (Oskar Fischinger)
To experience Oskar Fischinger's films for the first time is to have a door suddenly thrown open on a luminous and merry world. Shapes determined by motion live out their unique life cycles in a deep color space existing somewhere in infinity. Colors which aren't supposed to coexist in the same composition get along just fine when cut lose from the frozen picture plane of the graphic arts. Oskar's mastery of editing, timing and visual dynamics results in a flowing choreography continually fresh, unpredictable, and enchanting. The words "space-time continuum" finally acquire tangible meaning; shapes become sounds and sounds shapes, and most breathtaking of all is the dawning awareness that a Real Space has been created, a space that excludes the deceptive pseudo-reality of photographic realism; one alternative universe charted and plenty more to go for the next explorer. Richard Bohn, "Visual Music Pioneer: Oskar Fischinger" in The Relay (Visual Music Alliance, 1982)
It's Fischinger Season: Fischinger's films were featured prominently in the US exhibition "Visual Music" at the Hirshhorn (Smithsonian) and the Museum of Contemporary Art, Los Angeles, and in much of the press on this 2005 exhibition. The Oskar Fischinger Retrospective (distributed by CVM) screened at Lincoln Center, New York, in January 2006; there were two painting exhibitions of his work in 2005 (LA and Washington DC), and his films and artwork were featured at Centre Pompidou (Paris), in the "Sons et Lumieres" exhibition in 2004-05. In 2004 film historian William Moritz's Fischinger biography Optical Poetry was published by John Libbey (UK), now available on amazon.com worldwide. With all this much-deserved attention, until now his films have been unavailable on DVD. CVM is pleased to release the first in a series of DVDs, Oskar Fischinger: Ten Films. (Cindy Keefer, CVM)
Artists' Testimonials about Fischinger (from William Moritz's biography of Fischinger, Optical Poetry)
Whenever I had a chance, I would go out of my way to see Fischinger films. He was a true, natural genius. He ought to be sainted, but I guess they don't have Art Saints. Len Lye, 1977
Oskar Fischinger's constant achievements in animated abstract films have distinguished him as the leading figure in this newest Art. His importance in this kinetic medium is comparable to that of Cezanne in modern painting. From his earliest to his latest films, we witness the unfolding of the many-faceted talent of an ingenious craftsman, impeccable designer and creative artist. He as at once artist-poet and scientist. Lorser Feitelson
I was just graduating from college in painting when I saw Fischinger's films at the 1946 Art in Cinema festival at the San Francisco Museum of Art, and that inspired me to start making films instead of just painting canvases. Jordan Belson, 1971
Fischinger was one of the great formative influences in my life. Around 1935, when I was about 20, in my student days at the Glasgow School of Art in Scotland, I saw for the first time an "abstract" movie. It was Oskar Fischinger's film done to Brahms' "Hungarian Dance No. 5". It is difficult to describe adequately the impact it had on me: I was thrilled and euphoric by the film's fluent kinesthesia, which so potently portrayed the movement and spirit of the music. The experience made an indelible impression on me, excited a yearning in me, and was to have a profound, long-lasting influence on many of my films. Norman McLaren, 1975/1980
I was still a painter and my brother John was photographing real objects in the Ballet Mecanique tradition when we first saw Fischinger's films at the Stendhal Gallery in 1939 or early 1940. Only four or five films were shown -- a few black-and-white Studies, Circles and Composition in Blue. John, who was mad for Schönberg then, hated the traditional classical music tracks, but I hardly heard the music at all. I only saw the pure moving light, and after that, still painting would never be enough for me: I had to make real non-objective imagery in motion. James Whitney, 1970
-------------------------------------------------------------------------------
Films and Photographs © Elfriede Fischinger Trust
DVD © Center for Visual Music, 2006
Licensed for private home use only, all other rights reserved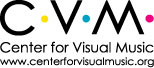 CONTACT: Cindy Keefer, Center for Visual Music, via Email (CVMaccess at gmail.com) or at 213-683-1514
Biography of Oskar Fischinger (by William Moritz) on the Fischinger Archive website (www.oskarfischinger.org): Short and Longer
CVM's Fischinger Research Pages contain additional information about the DVD, Statements and Film Notes by Fischinger and Others
Articles by and on Oskar Fischinger - see Fischinger Archive website or CVM Library
Moritz, William. The Importance of Being Fischinger (at the CVM online library)
Additional Fischinger material and links are online at the Fischinger Archive website or CVM Library
Center for Visual Music is a nonprofit film archive dedicated to visual music, experimental animation and avant-garde media.
DVD Press:
January 2008. Review in Sight and Sound Magazine (BFI, London).
November 2007. DVD wins Award at Hamburg Cinefest's annual Willy Haas Awards.
2007. Review in Ray Filmmagazin (Austria). In German.
September 06: Global Discoveries on DVD by Jonathan Rosenbaum, in Cinema Scope 28. "...the material is so exquisite and so compulsively rewatchable..."
July 06: The DVD was Awarded a Special Mention at the Il Cinema Ritrovato festival, Bologna Italy, in the third edition of the festival's annual DVD awards, Experimental Film category. Article (in Italian) in Cinecitta
June 28: Leonard Maltin's Video Views, KNX 1070 AM Radio, syndicated review, transcript at Leonard Maltin's Movie Crazy website
June 18: Feed: Animation/VFX/Design: Oskar Fischinger: The Original Old School - "Fischinger was the great grandfather of motion graphics..."
San Francisco ASIFA Newsletter
Animation Magazine, April 10: "Fischinger to Swim in DVD Waters" by Ramin Zahed
Jerry Beck and Amid Amidi's Cartoon Brew blog, April 7 listing (part of the Cartoon Research website)
Other recent press on Fischinger and his films (pre-DVD press):
Leslie, Esther. Where Abstraction and Comics Collide, in TATE ETC (magazine of Tate Museums, UK), Summer 2006, feature article.
2005: Village Voice, Artforum (Summer 2005 issue and October 2005), New York Times, Washington Post, Los Angeles Times, Wall Street Journal, International Herald Tribune, LA Weekly.