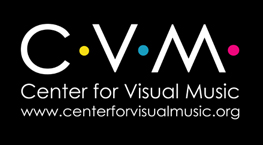 CVM Collections: Access and Distribution
Print rentals and digital access
CVM provides access to selected prints from our preservation projects and collections through rentals to qualified institutions,* or digital copies for some films. We can only rent to institutions, not to individuals. Changing soundtracks, or adding new music to silent films, is not permitted. Center for Visual Music is the owner and rightsholder for the films of Oskar Fischinger. Any Fischinger rentals, licenses or other requests regarding the films should be directed to us at cvmaccess (at) gmail.com
Center for Visual Music is the authorized legal distributor for the abstract films of Mary Ellen Bute, per rights transferred by Cecile Starr (Bute's long term distributor).
Some of these titles include:
Selected Oskar Fischinger 35mm prints including Spirals, Radio Dynamics, Allegretto, Study no. 5 (new preservation print!), Study no. 6, Study no. 7, Kreise, Spirals (new preservation print), Kreise, Komposition in Blau, Wax Experiments, Ornament Sound and others. Some are available as 16mm prints. Many are available digitally (though not on DCP) and most may be licensed for streaming to classes. Inquire.
New HD Fischinger transfers include: Muratti greift ein, Composition in Blue, Swiss Trip, Squares, Pierrette I, Wax Experiments, Studie nr 2, Studie nr 3, An American March, various 1920s and 30s experiments and tests.
Mary Ellen Bute, Mood Contrasts, Tarantella, Rhythm in Light, Escape, and selected other 16mm prints from the Cecile Starr Collection at CVM. Full Retrospective available in 16mm. Available digitally: Abstronic, Polka Graph, Tarantella, Color Rhapsodie, Parabola, Spook Sport, Rhythm in Light.
Jordan Belson, Allures, Chakra, Mandala (new preserved prints!), Music of the Spheres, Momentum, Meditation and a few other selected titles, under specific circumstances, please inquire. 16mm. Available soon: new preserved prints of Re-Entry and Phenomena. Available digitally: Allures, Samadhi, Bop Scotch, Mandala, Chakra, Meditation, Fountain of Dreams, some others, inquire.
Selected 16mm films by Hans Richter, Viking Eggeling and Walter Ruttmann, from the Cecile Starr Collection at CVM. Including Richter's Ghosts Before Breakfast, others. Ruttmann's Opus I, II, III and Eggeling's Symphonie Diagonale.
Charles Dockum films (1952 Mobilcolor Performance at the Guggenheim; 1966 Mobilcolor Documentary and Performance films; 1969 and 1970 extended Mobilcolor Performance films).
Jud Yalkut, Turn, Turn, Turn (16mm)
John Stehura's Cibernetik 5.3 (digital only)
Richard Baily, Night Waves (digital)
Selected 35mm films by Baerbel Neubauer; several available digitally including Feuerhaus and Algorithmen.
Films by Jules Engel (including Three Arctic Flowers, Celebration, Mobiles, Times Square, Coaraze, Landscape). Coaraze is a new 35mm preservation print (restored thanks to Calarts and individual donors). Others on 16mm. Some may be rented as digital versions, including Accident, Play-Pen, Mobiles, Landscape.
William Moritz, Slow Morning Rain (digital or video only)
Selected other visual music films by artists including Barry Spinello, (Six Loop Paintings, Soundtrack, others) inquire
New HD Transfers: Yantra Study by Elwood Decker; Accident by Jules Engel
FOR PREVIEWS of some films, please visit our VOD channel on Vimeo and our regular vimeo channel.
---
Booking inquiries:
Please provide details including date(s) and number of screenings requested; size of screening room (seats). For film prints: if you are not a FIAF archive, please provide information on your projection situation and projectionist. Please note, we do not rent to individuals, only to qualified organizations.*

We do not ship via UPS or postal mail, via Fed Ex or DHL only.
Please direct inquiries to
Center for Visual Music
Via email: cvmaccess (at) gmail.com




---
*Qualified institutions for Retrospective programs or archival prints include FIAF archives and venues capable of archival projection, and institutions which have previously rented programs from us without damage to any films or shipping problems/delays.
For individual print rentals, please describe your projection situation, and if the screening is part of a larger event or a co-presentation. If you have not rented film prints from us before, please provide references other organizations you've rented film prints from recently.
Changing soundtracks, or new music performed to the films, is not permitted. Please email for further information, cvmaccess (at) gmail.com .