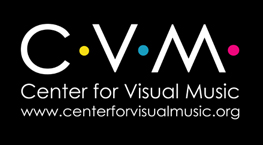 Links to Other Resources
Listserves, Distributors, other Archives, Venues
---
Listserves, Announcement & Discussion Lists
VisualMusicPlus - CVM's discussion list (For CVM members only)
Frameworks archive: Experimental Film discussion list
This Week in Avant-Garde Cinema - calendar of events
---
Distributors of Abstract, Experimental and Avant-Garde Film/Video/Digital Work
This is a mixed list. Some companies carry dvds for purchase, others offer film and video for rental, a few offer both
British Film Institute - PAL DVDs
Canadian Filmmakers Distribution Centre - films
Canyon Cinema - films
Center for Visual Music - online store with DVDs, and curated programs with films
Chicago Filmmakers - films
Cinedoc
Electronic Arts Intermix - video
Filmbank (now a part of Eye Institute, Amsterdam)
Film-Makers Cooperative, New York - films
Light Cone, Paris - films
Lux Cinema, London - films, dvds
MoMA Circulating Film and Video Library, New York - films
Milestone Films - dvds (only a few are experimental)
National Film Board of Canada
Other Cinema - dvds
Re:Voir, Paris - PAL videotapes, dvds (all avant-garde)
sixpackfilm, Austria - films, dvds
Video Data Bank, Chicago - video
---
Other Archives with Visual Music-Related Materials
Thomas Wilfred Collection - Yale University (US). Manuscripts, papers.
Finding Aid to a collection of Mary Ellen Bute and Ted Nemeth papers at Yale University
Finding Aid to Mary Hallock Greenewalt materials at Historical Society of Pennsylvania (pdf)
Len Lye Foundation (archives and studio collection), New Zealand
NEW Alexander Laszlo Collection at University of Wyoming. "Color Light Music Machines" 1905 engineering drawings and blueprints are online
Archives of American Art (Smithsonian Institution, Washington DC):
--LA Independent Film Oasis collection (papers)
--A Collection of Hans Richter papers (on microfilm)
--The archives also contain oral histories with Bruce Conner, Larry Jordan and other filmmakers
Pacific Film Archive (Berkeley, CA) - Library and Film Study Center
Museum of Modern Art (New York) - Film Study Center
Hans Richter Archive in the MOMA, New York Archives - Finding Aid
---
Online Clips Legal sources only (under construction)
Vimeo.com - CVM has posted clips from our archives on a Visual Music Channel on vimeo, and selected contemporary artists' work through a VM Group on vimeo
Stan VanDerBeek: A La Mode, Science Friction, Breath Death, Poemfield # 2 (1959 - 1966) on Tate's Intermedia Art
Light Cone, Paris (distributors) have digitized some of the films in their collection for online previews. We especially like:
Thierry Vincen's Giraglia (1968) - dig this Pierre Henry score!
Emmanuel Lefrant's films
---
Venues/Programming in need of updating...
Anthology Film Archives, New York
Cinematheque Ontario, Toronto
Los Angeles Filmforum
Light Industry, Brooklyn
Lux, London
Museum of the Moving Image, Astoria, Queens (New York)
Northwest Film Forum, Seattle
Pacific Film Archive, Berkeley CA
REDCAT, Los Angeles
Scratch Projections, Paris
Tate Modern, London
UCLA Film and Television Archive
Whitney Museum of American Art, New York
(this is only a brief summary of what would be a very extensive list...)
---
Join our Mailing List: CVM List