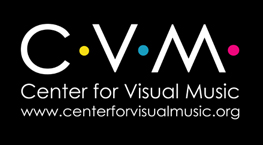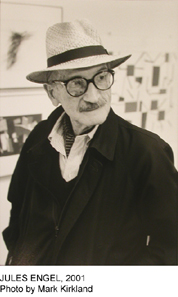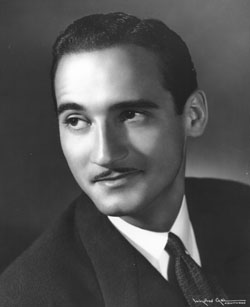 The Jules Engel Preservation Project
When Jules Engel passed away in September 2003, he left behind a legacy of more than thirty-three personal films and thousands of animation drawings. The Jules Engel Preservation Project was established in 2003 by Center for Visual Music to insure archival conservation of his work. Through the support of individual contributions and institutional grants, and anchored by leadership funding provided by the National Film Preservation Foundation, the project enabled the preservation of several short films after his death: Coaraze, Accident, Mobiles, Three Arctic Flowers, Celebration, Play-Pen, Times Square and Landscape, plus cataloging, triage and cold storage for many of his original film elements and new preservation materials.
In recognition of Jules' brilliant career as educator and artist, CalArts became a major supportor of this effort to preserve his legacy. The work of the project fulfills the commitments, made individually and on the part of our community to our friend, mentor, collaborator and inspiration, and guarantees that his achievement will be available to future generations of students, scholars and cinema lovers everywhere.
Many new preserved prints were screened at the Jules Engel Retrospective Tribute at the REDCAT Theatre in Los Angeles on November 23, 2003, presented by Cal Arts and Center for Visual Music. Several new preserved prints were featured in CVM's Essential Visual Music: Rare Classics Program. Please contact CVM regarding the titles listed above which have been preserved by CVM. Currently, the project has begun transferring these films to high definition for greater access. Contributions to the project will help continue this work, and allow us to place more of his films online at CVM's Video On Demand Channel.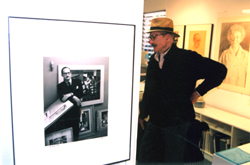 Photo by Chris Meeks
The Jules Engel Preservation Project thanks The National Film Preservation Foundation, The National Endowment for the Arts, The Estate of Jules Engel, CalArts, iotaCenter.
Additional thanks are extended to: Audio Mechanics, Chace Audio, Cinema Arts, Cineric, DJ Audio, Janeann Dill, David Ehrlich, Ruth Hayes, Stephen Hillenburg, Dr. William Moritz, Tobey C. Moss Gallery, NOMI Group, Christine Panushka, Lorelei Pepi and the Rochester Institute of Technology, School of Film and Animation, Sheila Sofian, and other individual donors.
Thanks to those who contributed to and made possible the preservation of Coaraze (1965): California Institute of the Arts, Steve Anker, Henry & L.I. Anderson, David Berry, Beth Block, Dave Bossert, Betzy Bromberg, Janeann Dill, Mark Dornfield, John Duganne III, James Hart, Michael Hartzog, Michael Scroggins, Dorne Huebler, Rachelle Katz, Stanley Levine, Lisa Mann/John Endievri, Christine Moreno, Mark Osborne, Michael Pressman, Marc Ratner, Socki Family, Steve Subotnick/Amy Kravitz, Doug Vitarelli, and Ellen Woodbury.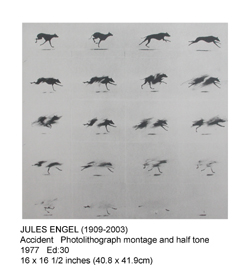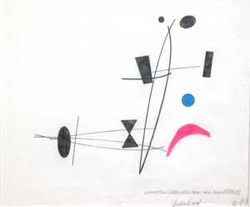 Courtesy Tobey C. Moss
The Jules Engel Preservation Project
at Center for Visual Music
PO Box 39527, Los Angeles, CA 90039
213-683-1514
CVMaccess@gmail.com
PHOTOS: Top rght, courtesy Estate of Jules Engel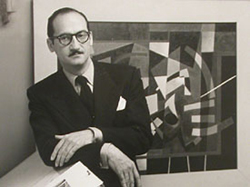 Photo by Lou Jacobs Jr., Courtesy Tobey C. Moss.
Links and Engel Resources
Jules Engel Tribute in Animation World Magazine, 2003.
Biography/PR - Cal Arts
Program for Jules Engel Tribute, REDCAT Theatre, Los Angeles, Nov. 23, 2003 (PDF). Presented by Center for Visual Music and Cal Arts.
Jules Engel site - Quicktime interview, artwork and more
Jules Engel: 100 Portraits (April 2003), by Dane Picard (Quicktime)
Reflections on Teaching Anination by Jules Engel on Michael Sporn Anmiation's SPLOG
Obituary, The Guardian, September 17, 2003
Biography, paintings at Tobey C. Moss Gallery
Transcript of Jules Engel Oral History, 1975-1978 (UCLA Oral History Program) at Internet Archive. Please note: All literary rights in the manuscript, including the right to publication, are reserved to the University Library of the University of California, Los Angeles. No part of the manuscript may be quoted for publication without the written permission of the University Librarian of the University of California, Los Angeles.
Interview with Elfriede Fischinger, by Jules Engel (coming soon).
Jules Engel on Oskar Fischinger (audiotape in CVM Archives)
Jules Engel, on working with Walt Disney (videoclip from Peoples Archive), You Want to See the Frog?
List of Jules Engel artwork in the Collection of MOMA New York (no images)
Artwork and images from Jules' UPA work, from Cartoon Modern
Selected Bibliography (under construction)
Allan, Robin. Walt Disney and Europe: European influences on the Animated Feature Films of Walt Disney. John Libbey, 1997
Amidi, Amid. Cartoon Modern style and design in fifties animation. Chronicle Books, 2006
Dill, Janeann. Jules Engel, The Mentor. Animation World Magazine, May 1999
Engel, Jules
--Oh. Philip Morris Studios Publications, 1974
--Reflections: Graphic Choreography. New, Vol. 8, no 3, Beyond Baroque Foundation, Venice, CA. May 1977.
--Experimental Animation - The Joy of Movement. Unpublished typescript, n.d.
Moritz, William
--UPA, Reminiscing 30 Years Later. ASIFA Canada Bulletin, Vol 12, no. 3, December 1984.
--Jules Engel, Post-Modernist. Cardiff International Animation Festival program, 1994
--Norman McLaren and Jules Engel: Post Modernists. in A Reader in Animation Studies. Jayne Pilling, ed. John Libbey/Indiana University Press, 1998..
Join our Mailing List: CVM List