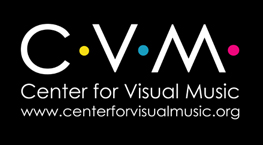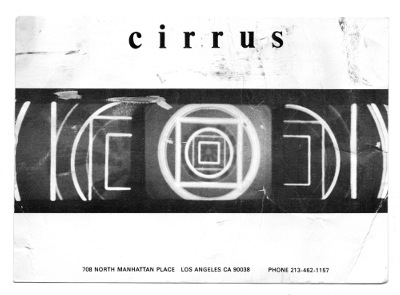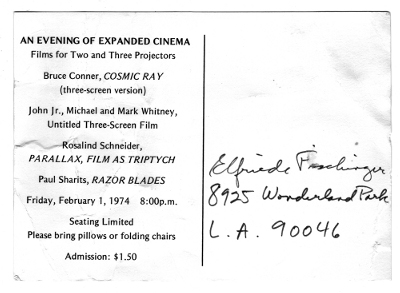 Expanded Cinema: A Bibliography by CVM
under construction
Brenez, Nicole.Improvised Notes on French Expanded Cinema. Millenium Film Journal 43/44, Summer/Fall 2005.
Douglas, Stan and Christopher Eamon, eds.. Art of Projection. Ostfildern: Hatje Cantz Verlag, 2009.
Export, Valie. Expanded Cinema as Expanded Reality. Senses of Cinema 28. Sept-Oct 2003.
Hatfield, Jackie. Expanded Cinema and Narrative: Some Reasons for a Review of the Avant-Garde Debates Around Narrativity. Millenium Film Journal 39/40, Winter 2003.
Isles, Chrissie. Into the Light: The Projected Image in American Art, 1964-1977. New York: Whitney Museum, 2001.
Jenkins, Bruce. "Out of the Dark" (on Paul Sharits). Artforum Summer 2009 reprint.
Keefer, Cindy. "Space Light Art:" Early Abstract Cinema and Multimedia, 1900-1959. White Noise. Ernest Edmonds and MIke Stubbs, Eds. Melbourne: Australian Centre for the Moving Image, 2005. Exhibition Catalog.
--'Raumlichtmusik' - Early 20th Century Abstract Cinema Immersive Environments. Leonardo Electronic Almanac, Creative Data Special Issue. Leonardo: The International Society for the Arts, Sciences, and Technology, and MIT Press. October 2009. PDF.
OtherFilm (Danni Zuvela, Joel Stern, Sally Golding). Kine-Calligraphy for a New Era: Cantrills Expanded Cinema 1971/2006/2009. Senses of Cinema 56, October 2010
Shaw, Jeffrey and Peter Weibel, Eds. Future Cinema: The Cinematic Imaginary After Film. Cambridge, Mass: MIT Press, 2003.
Uroskie, Andrew. "Between the black box and the white cube: Warhol, expanded cinema, and the emergence of the moving image in American art, 1963--1965." Dissertation, University of California, Berkeley, 2005.
--From Pictorial Collage to Intermedia Assemblage: Variations V (1965) and the Cagean origins of VanDerBeek's Expanded Cinema. in animation: an interdisciplinary journal. Vol 5, no. 2 (July 2010).
Vanderbeek, Stan. "Culture: Intercom" and Expanded Cinema: A Proposal and Manifesto. The Tulane Drama Review
11, No. 1, Autumn, 1966. Available online through JSTOR.
Vanderbeek's MOVIEDROME 1963-65: Documents and Images including from Film Culture no. 40, 1966. Download PDF
Webber, Mark. REVIEW - X-Screen: Film Installation and Actions of the '60s and '70s. Frieze Magazine 83, May 2004.
Youngblood, Gene. Expanded Cinema. E.P. Dutton, 1970. PDF files hosted on Vasulka Archive online
********************************************************
Symposia, Projects and Other Resources:
Expanded Cinema: Activating the Space of Reception. April 2009 Symposium at Tate Modern, London. Organized with the British Artists' Film and Video Study Collection, London. Videoclips of selected talks and performances are here, including Noam Elcott, Chrissie Isles, and others. Define Intervention, a review of the symposium at Artforum.com
The Live Record. 2008 Conference at BFI Southbank, London. Includes documentation of talks online.
Expanded Cinema: Time / Space / Structure. December 2006 Symposium at Württembergischer Kunstverein, Stuttgart. Curated by Mark Webber. Programme here (PDF). Review by Luke Fowler in MAP.
Festival: Expanded Cinema: Film as Spectacle, Event and Performance. Dortmund, Germany, September 2004. Presented by Hartware Medien Kunst Verein and medien_kunst_netz. Curated by Mark Webber.
Festival of Expanded Cinema, ICA London, 1976.
RESEARCH PROJECT: Narrative Explorations in Expanded Cinema, based at the British Artist's Film and Video Study Collection at Central St Martins, College of Art & Design, London. Among their resources, here is a link to download a PDF diagram of their Expanded Cinema Family Tree.
Expanded Cinema Study Collection at Württembergischer Kunstverein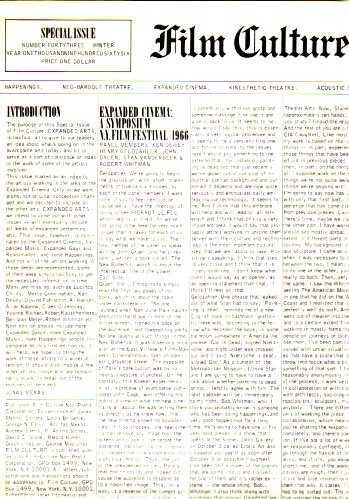 Film Culture: Expanded Arts. Issue no. 43, Winter 1966. New York: Film Culture Inc., 1966.
Three 22 x 34" sheets printed offset recto and verso, folded in eight to make 11 x 8 1/2." Designed by George Maciunas. This special issue of '60s New York's avant garde film quarterly is an all Fluxus tabloid newsprint issue featuring George Maciunas, Nam June Paik, Yoko Ono, Robert Watts, Ben Vautier, LaMonte Young, et al, the introduction states; "The purpose of this Special Issue of Film Culture, EXPANDED ARTS, is twofold: a) to give our readers an idea about what's going on in the avantgarde arts today, and to serve a sort of catalogue or index to the work of some of the artists involved...Expanded Cinema, Expanded Music, Expanded Gags and Readymades, and some Happenings". . ISSN 0015-1211 (Original periodical in the collection of CVM)
Top images: Cirrus postcard, from the Collection of CVM