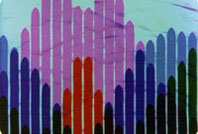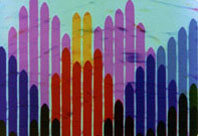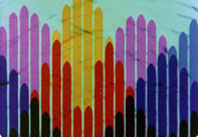 "Space Light Art" - Early Abstract Cinema and Multimedia, 1900-1959 by Cindy Keefer
Plastic - Dance - Painting - Music become one - Oskar Fischinger
This essay discusses the evolution of abstract cinema and multimedia in the first half of the 20th century, through the synthesis of film, performances and installations. Beginning in the first two decades of the century, European avant-garde artists influenced by Wagner's "Gesamtkunstwerk" (Total Artwork) experimented with the relationship of cinema to painting, music, sculpture and other arts. In Germany, this experimentation led to the abstract or "absolute" films of Viking Eggeling, Walther Ruttman, Hans Richter, and Oskar Fischinger. The 1916 Futurist Manifesto in Italy declared that cinema would combine all the arts, and create a new art form.
German abstract painter Walther Ruttmann wrote in 1919 about 'painting with time,' which he believed would be accomplished through film. "And so a type of artist will emerge who is quite new and previously only latently in existence, placed somewhere between painting and music … In any case, the new art can count on a considerably larger audience than painting currently enjoys …" [1]
The first documented public event combining abstract film with other media was in 1921 in Frankfurt, when Ruttman premiered his film Lichtspiel Opus I with a live string quartet. Max Butting composed the score for the film, and Ruttmann played cello. Ruttman hand-tinted the black and white film, painting thousands of frames over several years. The film was described as moving paintings in time; reviews spoke of a new art form. This event was enormously influential not only on the development of abstract or 'absolute' film, but specifically on the work of a young filmmaker in the audience named Oskar Fischinger.
Subsequent abstract films by Ruttman, Richter, Eggeling and Fischinger were screened accompanied by live music, and in Ruttmann's case the scores were specially composed for the films. This German movement of absolute films was described as:
"Malerei mit Zeit" [painting in time] (Ruttmann); "Bewegungskunst" [art in movement] (Eggeling); "Augenmusik" [visual music], "Lichttonsinfonie" [symphony of light and sound], "zeitraumliche Eurhythmie" [eurythmics in space and time] (Diebold), and "Kinomalerei" [cinematic painting] (Yvan Goll)… [2]
Meanwhile, a school of kinetic light projection experiments using 'color organs' was well underway in Europe and America by numerous composers, artists and scientists. Color organs were usually performed in correspondence with musical compositions. Though none used traditional cinematographic film, the combination of light projection machines and abstract cinema in performance evolved rapidly in the 1920s.
At the Weimer Bauhaus School in 1922, Ludwig Hirschfeld-Mack and Kurt Schwerdtfeger experimented with reflected light projections from a mechanical, hand-operated color organ. (A recreation of these performances was filmed with Schwerdtfeger's supervision in 1966). Hirschfeld-Mack soon began performing the color organ "Reflektorischen Farbenlichtspiele" publicly.
Beginning in 1925 a series of events (primarily in Germany) featured color organ performances, abstract and avant-garde films on the same programs. Thus began an early tradition of 'multimedia events' featuring light projections and abstract cinema, though the two media were not performed simultaneously until 1926.
Hirschfeld-Mack performed the Reflektorischen Farbenlichtspiele at events including film shows in Berlin and the Vienna Music Festival. The May 1925 UFA "Der Absolute Film" event in Berlin featured the public premiere of Eggeling's film Symphonie Diagonale, films by Ruttmann, Picabia and Clair (Entr'acte), Murphy and Léger's Images Mobiles (later known as Ballet Mecanique), and a performance of Hirschfeld-Mack's Reflektorischen Farbenspiele. "The screening caused a sensation…was repeated for a much larger public and was intensely discussed and reviewed." [3]
The first known simultaneous performance of abstract film, color organ light projections, and music was that of Hungarian composer Alexander László and Oskar Fischinger, in Munich in March 1926.
Raumlichtkunst
Beginning in 1925, László performed "Farblichtmusik" concerts with his color-light piano, colored spotlights, and four slide projectors, with music varying from his own compositions to Chopin, Rachmaninoff and Scriabin. Dr. Jörg Jewanski writes:
After this, László became very popular in Germany. He had conceived the idea of combining music and painting in a way that would subordinate neither art to the other. To this end, he began collaborating with the German painter Matthias Holl. Acting on László's ideas, Holl painted watercolor pictures, which were transferred onto slides.
In 1926 László collaborated with Fischinger, who provided reels of abstract film imagery, screened on multiple projectors at the Farblichtmusik performances. This became the first public multimedia event using abstract cinema, combining Fischinger's films with László light projections, music and painted slides:
In March 1926, there was a collaboration between Fischinger and László at one concert in Munich, where a film of Fischinger was used… Fischinger and László both were satisfied with this experiment, and in April 1926 they signed a contract. László was to pay 3 Deutsche Mark for every meter of Fischinger's film he used in his Farblichtmusik-concerts. [4]
Fischinger, in a June 1926 letter to the director of the Munich City Theatre, refers to László's Farblichtmusik performance there on March 7. He stated the performance was visually dependent on his film work, and offered the director a special show, Fieber I, II and III, which he planned with music by Korngold, to be performed independent of László (though he would need László's approval). Fischinger confirmed he would provide and assemble the projection apparatus. [5]
In July 1926, critic Rudolf Schneider reviewed a Farblichtmusik performance in a newspaper article, "Formspiel durch Kino." He discussed Fischinger's 'wax experiments' footage used in the performance: "Fischinger's idea and invention is a great advance." The review described some of the other film images: "snakes, fog, balls, rings…fantasy," and noted that Fischinger was working on a film performance called Fieber. Schneider writes of this new art "that Fischinger calls Raumlichtkunst…" [Space light art] though he suggests "Formspiel" as a name.[6] In October, Schneider wrote that Fischinger was working on a film for 'multiple projector apparatus,' Fieber, that had the claim to being a new type of independent art.
Fischinger wrote about "Eine neue Kunst: Raumlichtmusik" [The new art: Space Light Music; Schneider's review uses the term Raumlichtkunst: "Space Light Art"]: "Of this Art everything is new and yet ancient in its laws and forms. Plastic - Dance - Painting - Music become one. The Master of the new Art forms poetical work in four dimensions…Cinema was its beginning…Raumlichtmusik will be its completion." [7]
Jewanski writes:
From May to October 1926, a huge exhibition took place in Duesseldorf, Germany, named 'Gesolei'. Nearly 7,500,000 people visited 174 exhibition houses. In No. 78 'Light technique', László performed his Farblichtmusik: 8-10 performances every day, altogether 1200 performances, shown to more than 40,000 people… László started his performances at the 'Gesolei' on May 22, but first without Fischinger's films, because there were problems with the fire brigade (nitrate films were flammable and needed a special permission, which they didn't have). [8]
Documentation is minimal, and it is uncertain whether Fischinger's films were included in the Gesolei performances. Fischinger later wrote in a brief biographical statement, "Fischinger made between the years 1920 til 1925 a number of abstract films together about 3 full reels, which were shown together with Alexander Laczlos Color Organ…in the Munich Staat Opera-Theather and in many other places, Cinemas, ectr." [9]
According to Dr. William Moritz,
László toured Germany in 1926 giving Farblichtmusik concerts, but now the reviews tended to criticize the quality of his old-fashioned romantic music compared to the modern filmic effect, so he withdrew Fischinger's film component from his performances. Fischinger, however, prepared his own multiple projector shows (including some of the imagery from the László shows) with three side-by-side images cast with three 35mm projectors, slides to frame the triptych, and at climactic moments, two additional projectors which overlapped the basic triptych with further color effects. As Ruttmann had, Oskar used all three systems for colorizing (tinting, toning and hand-coloring) to give a wider variety of colors. [10]
In 1926-27 Fischinger performed his own multiple projector film shows with various musical accompaniment. These shows were titled Fieber (Fever), Vakuum, Macht (Power) and later, R-1 ein Formspiel. Letters and newspaper reviews chronicle his multimedia experiments.
A July 16, 1926 Film Kurier (Berlin) review notes that Fischinger is "right now working on a film for multiple projectors, Fieber" which will come to Frankfurt in the fall. In September 1926 Fischinger wrote in a letter "My film Vakuum, which I am working on now, will be ready in 3 or 4 days and will be totally fabulous, will most likely have the premier in the Berliner Stadtischen Opera." [11] The same month, Fischinger wrote his uncle Albert that a screening of his films Fieber and Vakuum in the Berliner Stadtischen Opera was almost certain.
A January 1927 review of Fischinger's multiple projector performance in Munich notes that his current film work was called Macht (Power), another film is called Fieber, and that Fischinger's Vakuum has been finished and will soon be ready for showing. [12] In December 1927, an article titled "Raumlichtkunst" in Die Zeitlupe München magazine praised Fischinger extensively, describing his three projector film show, his sliced film technique [wax experiments footage], and his "original art vision which can only be expressed through film."
Moritz later interviewed László, who confirmed he'd seen Oskar's solo multiple projector show in Munich called R-1, ein Formspiel, with five 35mm film projectors and slide projectors using painted glass slides.
In 1927 Fischinger described R-1 as "…an intoxication by light from a thousand sources…A happening of the soul, of the eyes, of the eye's waves, wave streams, Sun flowing, a level vanishing, a sudden eruption, an awakening, ceremonial, sunrising, effervescent, Star rhythms, star lustre, a singing, surf breaking over chasms, a world of illusions of movements of lights, sound and song tamed…" [13]
Working with Fischinger's film estate decades later, Moritz found material labeled "R-1, ein Formspiel" which he determined was from the multiple projector shows, though he could not ascertain whether this R-1 footage was a later, completed film or a part of the earlier Fieber, Vakuum or Macht shows. In 1993 Moritz completed a recreation by printing 3 panels on one strip of 35mm Cinemascope film, screened today as R-1 ein Formspiel [Re-creation Film].
After these performances of Fischinger's multimedia shows, single reels of these films were shown through the early 1930s at theatres in Berlin and Amsterdam, and at lectures by Moholy-Nagy and Ruttmann. Fischinger turned to other animated film work, notably his Studies, and this genre of multiple projector, mixed media shows was to be dormant for almost two decades.
However, several important events featured color organ performances and abstract film on the same program (though presented separately), at the four Farbe-Ton-Forschung Kongresses (Color Music Congresses), with the addition of scholarly presentations on synaesthesia and the relationships of color, light and sound. Organized by Dr. Georg Anschütz, the first was held in 1927 in Hamburg. The second Kongress in 1930 featured color organ performances by Ludwig Hirschfeld-Mack, Zdenek Pešánek and Anatol Vietinghoff-Scheel, and a screening of Fischinger's Filmstudie nr. 5. At the third Kongress in 1933, many of Fischinger's films were screened, and the Swiss painter Charles Blanc-Gatti performed his Chromophonic Orchestra color organ. Blanc-Gatti later completed an abstract film Chromophonie (1939), based on his color organ.
Films of Kinetic Light Sculptures
Another early though very different integration of abstract cinema and multimedia can be seen in two abstract films made in 1930 about kinetic light sculptures: Lichtspiel: Schwarz, Weiss, Grau (Lightplay: Black, White, Gray) by László Moholy Nagy, and Svetlo Bronika Tmou (A Light Shines in the Darkness), by Otakar Vávra and Frantisek Pilat, about Czech artist/sculptor Zdenek Pešánek's kinetic sculpture.
Program notes describe the Moholy Nagy film: "The images derive from a kinetic sculpture built by the artist in 1930, titled Light Space Modulator, which he described as an 'apparatus for the demonstration of the effects of light and movement'. The sculpture was composed of continuously rotating panels cut from glass, metal and wood, illuminated in such a way that they cast dramatic shadows against the wall. Moholy-Nagy's film captures the astonishing light effects created by the apparatus." [14]
Zdenek Pešánek created the first public kinetic sculpture, for the power station in Prague. In 1930, the film A Light Shines in the Darkness was made:
This short experimental film focuses on a kinetic sculpture by Zdenek Pešánek. For a period of eight years it issued beams of light from the outside wall of a transformer station at Prague's power utility before its destruction in 1939. Though genuine, these shots seem abstract to us. They are a rhythmically assembled ode to the light-creating devices and phenomena of electricity. Light arcs, coils, bulbs and various luminous elements support the alternation of positive and negative film images, creating an impressive universe of light and shade. [15]
In the 1920s, Pešánek had obtained financial support for his work with electric kinetic light art. In the 1930s, he was the first sculptor to use neon lights. He built several kinetic light pianos, and published a book titled "Kinetismus" in 1941.
American Experimentation
Color organs continued to develop in Europe and America. Charles Dockum in Pasadena, California, began building his Mobilcolor Projectors in the late 1930s, continually refining models of these color organs until the 1970s. Curator Hilla Rebay commissioned a Mobilcolor Projector for the Guggenheim Museum, and Dockum performed it there in 1952. Ted Nemeth filmed the performance with assistance from abstract filmmaker Mary Ellen Bute. In 1944, Dockum explained the use of filmstrips in Mobilcolor:
The Projector makes use of two groups of celluloid films, 4-1/4" wide, the three films of each group being superimposed before a projection aperture. By means of a seventh, control film, the films in each aperture group can be made to move either up or down, change speed or pause before the aperture. By this means designs carried on the films are made to modify each other as desired and produce rhythmic movements and effects over a wide range. The control film also governs the intensity of illumination. Special lens arrangements give the projections a luminous, prismatic quality.

The designs on the films are not drawn or painted on in the sense of painting a picture, as in animated cinematography. Rather the mathematical proportions are worked out which will give the desired results, and the films then opaqued to leave transparent "windows" which allow shafts or areas of light to pass through in guided movement. [16]
In the 1940s and early 1950s, filmmaker/painter Harry Smith showed his abstract films at San Francisco clubs with live jazz. "Jazz clubs like Bop City featured live music until late at night, and Harry Smith sometimes projected his abstractions (hand-painted directly onto the filmstrip) on the wall while the band played, as a kind of "light show." Using Hirsh's multi-speed projector, Smith could modulate the images to fit the jazz improvisations." [17] While not purely abstract, Smith's film Heaven and Earth Magic, began in 1957, was intended to be performed with slide overlays, special masking, and colored gels over the projector lens. In the mid-1950s American Hy Hirsh, then working in Paris, performed multiple projector film shows accompanied by live jazz, including Djinn, Change of Key, and Double Jam. The films used in these performances are now lost, except for a few frames of a Double Jam title.
Vortex Concerts
In San Francisco, both Smith and Hirsh were friends with abstract filmmaker/painter Jordan Belson. Belson and composer Henry Jacobs organized landmark multimedia events, the historic Vortex Concerts at San Francisco's Morrison Planetarium. Beginning as a series of electronic music concerts accompanied by visuals, Vortex premiered in May 1957 to enormous popularity, with dozens of shows performed through 1959.
The Vortex IV program notes stated:
Vortex is a new form of theater based on the combination of electronics, optics and architecture. Its purpose is to reach an audience as a pure theater appealing directly to the senses. The elements of Vortex are sound, light, color, and movement in their most comprehensive theatrical expression. These audio-visual combinations are presented in a circular, domed theater equipped with special projectors and sound systems. In Vortex there is no separation of audience and stage or screen; the entire domed area becomes a living theater of sound and light.
Jacobs curated music from avant-garde electronic composers worldwide. The planetarium had a sophisticated multidirectional sound system with c. 40 speakers, and Belson utilized c. 30 projection devices including the planetarium's star and rotational sky projectors, kaleidoscope and 'zoomer' projectors, strobes, slide projectors, rotating prisms, 16mm film projectors, and interference pattern projectors, all projecting onto the blackness of the 65 foot dome.
Alfred Frankenstein reviewed Vortex IV in the San Francisco Chronicle: "Belson turns the entire sky into a cosmic merry-go-round; he uses some of the planetarium's normal equipment to shoot meteors across the music or fill it full of stars; most remarkable of all is the vertiginously speedy shower of huge, flaky blips in which the whole universe shakes down at the conclusion of the program."
Abstract film imagery in Vortex included Belson's images, some of which were later used in Allures; some brief black and white footage originating from James Whitney but manipulated; and some black and white oscilloscope footage supplied by Hy Hirsh (billed as "Special Visual Effects"). Contrary to popular belief, the film Yantra was not shown in the Vortex Concerts at the Planetarium. For a special later concert (which was not held in the planetarium), Belson edited a compilation of some color footage by James, which he named Haut Voltage after its soundtrack.
Moritz wrote that Vortex "established the tradition of the psychedelic multiple-projector light show, which blossomed in the late 60s..." [18]. Today we know that the roots of multiple-projector light shows are found in Fischinger in the 1920s. Just as Fischinger's films inspired generations of filmmakers, so have his multimedia experiments influenced artists of later decades.
(c) Cindy Keefer 2005 - 2009
---
Footnotes
1. Ruttmann, Walther. "Malerei mit Zeit, " Walter Ruttmann. Eine Dokumentation, Jeanpaul Goergen (ed.), (Berlin: Freunde der Deutschen Kinemathek, 1989).
2. Brinckmann, Christine Noll. "Collective Movements and Solitary Thrusts: German Experimental Film 1920-1930," Millenium Film Journal No. 30/31, (Fall 1997).
3. Brinckmann, 1997.
4. Jewanski, Dr. Jörg. Email to the author, May 29, 2005. German scholar Jewanski has done extensive research and published on Alexander László. His book Synaesthesie und Farblichtmusik will be published in 2006 (Zurich).
5. Fischinger, Oskar. Letter to die Direktion, der Staatstheater München, June 16, 1926. Unpublished. Collection Fischinger Archive, Long Beach CA.
6. Schneider, Rudolf. "Formspiel durch Kino," Frankfurter Zeitung. Frankfurt, July 12, 1926.
7. Fischinger, Oskar. "Raumlichtmusik." Unpublished typescript, n.d. Collection Fischinger Archive, Long Beach CA.
8. Jewanski, 2005.
9. Fischinger, Oskar. Unpublished typescript, n.d. (c. 1946?). Collection Fischinger Archive, Long Beach CA.
10. Moritz, Dr. William. Optical Poetry: The Life and Work of Oskar Fischinger (Eastleigh, UK: John Libbey Publishing, 2004).
11. Fischinger, Oskar. Letter to "parents and siblings," Sept 24 1926. Unpublished. Collection Fischinger Archive, Long Beach CA.
12. Terven, Walter. "Bei Fischinger in München," Film Kurier, Jan 15, 1927.
13. Fischinger, Oskar. "A Note About R-1" in William Moritz, Optical Poetry: The Life and Work of Oskar Fischinger (Eastleigh, UK: John Libbey Publishing, 2004).
14. Press Release, Tate Modern: Collection 2003 exhibition [online]. http://www.tate.org.uk/home/press/tmcollection2003_03-2003.htm
15. Program Notes, "Energy: Artistic Films from 1920 to Today. An installation project of the Folkwang Museum for the RWE Tower." Essen, Germany: Folkwang Museum, 2003
16. Letter, Charles Dockum to Frank Lloyd Wright, June 10, 1944. Unpublished. Collection Center for Visual Music, Los Angeles.
17. Moritz, William. "Hy Hirsh and The Fifties," Kinetica 3 Catalog (2001), p. 6
18. Moritz, William. "Non-Objective Film: the Second Generation," Film as Film: Formal Experiment in Film, 1910-1975. (London: Arts Council of Great Britain, 1979).
Copyright Cindy Keefer 2005, all rights reserved. First published in White Noise exhibition catalog, ACMI Melbourne 2005.
NOTE: Online article includes slight later revisions made in 2008-09
"Staffs" images from Fischinger's 1933 Gasparcolor tests, (c) Elfriede Fischinger Trust. These were used by William Moritz in the 35mm anamorphic single panel recreation of R-1.